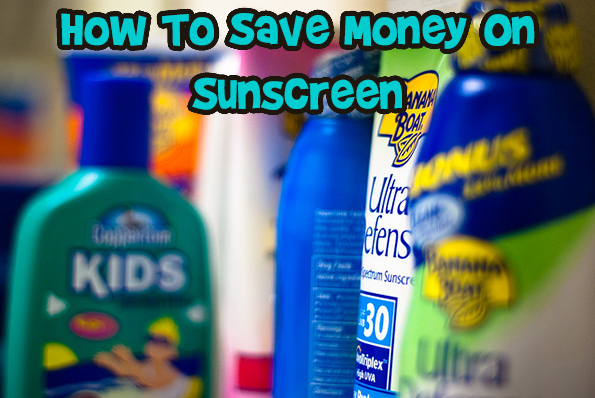 We go through a lot of sunscreen every summer in the Robinson household.  I have two little girls, myself and my hubby who all slather ourselves in the stuff before we venture outside.  I have extremely fair skin as I have Scottish ancestry on both sides of my family, so I need to be super protected when I'm in the sun.  I don't want my kids to be burned the way I was when I was a kid, so we are very careful with applying ample sunscreen on them too.  My aunt has a pool which we visit regularly, and we are especially careful when we are preparing to go to the pool, as it's so easy to get burned while you're in the water.  Here is an excellent article from The Skin Cancer Foundation about the importance of sunscreen. Given that we go through about a bottle a week, I have been wondering how to save money on sunscreen. Usually I go into the drug store when we're out and I pick one that is on sale, and I usually get an SPF 30.  Is SPF 30 enough?  How do I get the best bang for my buck with the sunscreen I purchase?
How much protection do I actually need?
For a nearly albino person like me, I am always attracted to the idea of a higher SPF protection rating: 100 SPF, yes please! The more protection I have the better, right? Maybe not. According to this article on FitSugar, an SPF blocks 99% of UVB rays while a sunblock which has SPF 30 blocks 97% of UVB rays. Depending on the price of the sunscreen you are considering, it might not be worth paying an additional amount of money for an extra 2% of skin protection. This article also talks about the importance of choosing a broad spectrum sunscreen, which protects against harmful UVA and UVB rays.  I was looking online at different sunscreen brands that have an SPF 100, and for the most part, they are much more expensive than sunscreens that are SPF 30.  It's a personal choice as to which protection you want, but I will personally stick with either SPF 30 or 50.
Different ingredients do different things
Given that I'd like to keep my kids as natural as possible, I'd like to purchase sunscreen that is effective, affordable and better for their skin.  According to this article from Prevention magazine, I should look for natural ingredients like zinc oxide and titanium dioxide instead of chemical-based sunscreen ingredients. I also try to stay away from parabens in my skincare products, and they recommend staying away from synthetic perfumes.  The article outlines some recommended healthy sunscreen options, which I really appreciate.  I use Environmental Working Group's sunscreen guide as a comparison for the products, and I think my best bets are Aveeno Baby Natural Protection SPF 50, and Banana Boat Kids Natural Reflect Sunscreen SPF 50.  They both have an excellent safety rating with the EWG, and they are available in my local drug or grocery store.  I found the Banana Boat sunscreen at Amazon for around $9 per 120 ml bottle.  The Aveeno product is also on Amazon, but is much pricier at nearly $18 for a very small container.
Preventative measures
The best preventative measure we can take is to reduce the time you spend in the sun between the hours of 10am-4pm, when the sun is the strongest.   You may or may not believe it, but certain foods can help prevent sun damage, like garlic, pomegranates and green tea.  I never thought I'd ever go onto Lauren Conrad's website, but I stumbled upon it when researching this article.  She outlines to top Top 10 foods that fight sun damage.  Most of these foods are regulars in our household, but perhaps I should whip up some fresh lemon, pomegranate and aloe vera juice this weekend.
Purchase it on sale
Once you have determined what type of sunscreen you would like to purchase, keep an eye on the flyers that come out and wait until the sunscreen goes on sale.  According to this MSN article on sunscreen, Consumer Reports say that the best value in sunscreen is Target's Up +Up Sport SPF 50 sunscreen which costs $1.16 an ounce, and the runner up is Walmart's Equate Ultra Sport Sunscreen SPF 50 at $0.47 an ounce.  Note that this article is American, although the information is still very relevant to us Canucks.  I looked online, and it appears that in Canada Target's Up and Up Sport sunscreen costs $0.79 an ounce, and WalMart's Equate Sport Sunscreen is simiar in price, at about $0.81 an ounce.  In Canada, Target's product is a better bang for your buck.  I would also check to see whether the sunscreen you want to buy is available at Shoppers Drug Mart.  Check out our very own Eva's article on SDM's Rewards program.  If you time your purchases right and combine a sale with a bonus Optimum points event, you can earn enough points for free sunscreen!
I'm really glad I wrote this article, as I had been purchasing sunscreen blindly up until now.  I never would have taken the time to research different sunscreen options, or to evaluate what was best for myself and my family.  Now that I'm getting a little wiser (ahem, older!), I am taking more time to discover the best, most cost-effective options for my family.  I will definitely start purchasing Banana Boat Natural Reflect Sunscreen from my neighbourhood Walmart since is it has such a high consumer rating, it has a good rating from EWG, and it's cheap!  I'm going to keep an eye on the Walmart flyer each week, and when it goes on sale I will stock up for the rest of the summer.
Bargainmoosers, what tips do you have to save on sunscreen?
(banner image credit: Robert S. Donovan)