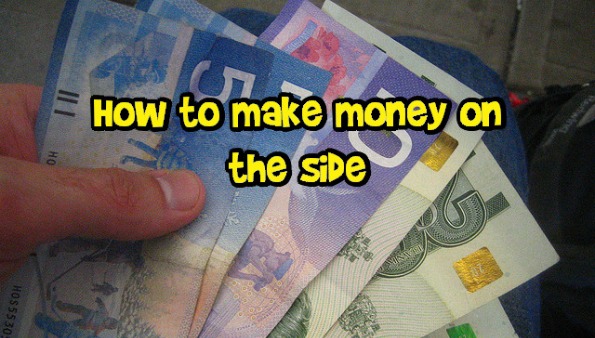 With the current economy the way it is, more and more people are trying to make money on the side.  Personally, I like to make a little money on the side for presents for myself, gifts for people and special occasions.  Although I have a very involved full-time career, I'm a huge proponent of taking on some part-time jobs on the side to get some cash.  I like to be generous with my family, and I also love to travel, so I need to supplement my income in order to afford the extras I enjoy.  Below are some easy ways to earn extra money on the side.
Take on more responsibility at work
Although this doesn't net you more money immediately, by doing the best job you can, demonstrating extra effort, and going the extra mile for the company you work for, and the people you work with, can help you make more money in the long-term.  Career progression typically occurs for those who not only do a good job at what they were hired to do, but puts in extra effort to help the company achieve success.  If you work on an over-time system, you might be considered for extra work that you could receive extra pay, if you demonstrate that you are a good worker who produces great results.
Kijiji- sell stuff/sell other people's stuff
My parents recently moved, and they had to get rid of their appliances, so they dropped their dishwasher off at my house.  Since our dishwasher works just fine, we have decided to sell it on kijiji.  This being my first sale on kijiji, I have been pleasantly surprised by the response.  We received 5 emails on the first day posting it, and actually sold it a day later.  Although I was somewhat leery about having a stranger at my house, we took the dishwasher outside so that no one actually went inside the house.  Many people put items in their garage for the same reason.  E-Commerce Guide gives some other useful tips to sell things online.  Another option is to sell other people's items online.  Remember the movie The 40 Year Old Virgin?  Catherine Keener had a shop selling other people's items online.  You don't need a retail store in order to do this, it's easy to do it out of the comfort of your own home.
Pursue your passions
Have you ever created a personal mission statement?  This will help you clarify what you love doing and what your passions are.  When I created my personal mission statement I learned that I love helping people, and that I am committed to facilitating change.  I love my career, but I can also pursue my passions in part-time work.  Since helping people is my passion, I could work at Starbucks on the weekend or evenings.  I also love helping people save money, and I have hosted couponing seminars in the past.  Teaching people about things that I love is easy, and I enjoy doing it.  Do you like to have fun and celebrate?  You could be a party or an event planner.  There are lots of opportunities for people to pursue which require little to no schooling and experience.  That being said, there are great courses available at many community colleges, and most are available online.  Also check what professional designations are available for your passion- that will give you more credibility with potential customers.  As an example, the Wedding Planners Institute of Canada has a professional designation which has now become standard for the wedding planning industry.
Work freelance
I am fortunate as I have a very rewarding career.  I have gained a lot of knowledge and expertise in my field, and I can easily take on freelance work for extra money.  Typically if I know someone who needs HR assistance I offer up my services at no charge.  To work freelance I need to start a website showcasing my talents.  I could also use LinkedIn for that as well. Next, I need to let people know that I am offering my services for hire.  Picking up freelance work is quite easy for someone who has accounting skills, bookkeeping skills, or is a writer.  There are many small businesses which can't afford a full-time writer/editor or bookkeeper, but needs someone to provide services for part of the month.  Check out freelancer.ca, which purports itself to be the world's largest freelancing, outsourcing, and crowdsourcing marketplace for small business.  Cool!
Direct selling
Amway was probably the premier pioneer of direct selling.  My sister and brother-in-law were selling Amway 20 years ago, when the concept was still fresh and largely unknown to people.  They have since moved to England and no longer are involved with Amway, but it seems like direct selling has really increased in popularity over the past few years.  This Wikipedia article gives you the history of direct selling.  I was reading a blog which stated that, on average, direct sellers earn about $115 a month through sales, but that amount can increase the more time and effort you put in.  Personally, I love having direct selling parties (Tupperware, Epicure, Arbonne), as it's a fun way to get together with friends, and you don't have to organize entertainment!  Just imagine being able to provide that type of fun environment for your friends and family through selling these products.  Make sure that you thoroughly research any company you are considering working for, and ensure you understand what their payment structure is.
Although this is not an exhaustive list, the above ideas will give you a head start on options to make money on the side.  With Christmas coming up, I know I will be doing all I can do to earn a little extra cash.  Please share your money-making tips in the comment section below!
Photo Credit: Rick