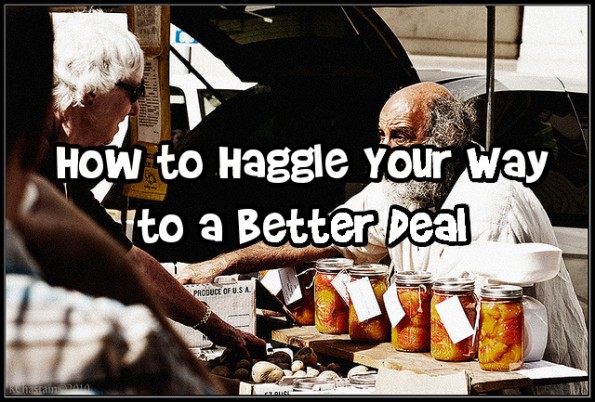 Ladies, you've probably heard this at least once in your life.
When it comes to haggling for a better deal, most women have one thing in common – they suck at it.
Linda Babcock and Sara Lashchever, authors of Women Don't Ask: Negotiation and the Gender Divide, reveal some interesting statistics on their website.
According to their book, 2.5 times more women than men said they "feel a great deal of apprehension when negotiating" and men initiate negotiations four times as often as women. Women compared negotiating to "going to the dentist," while men compared it to "winning a ballgame" or a "wrestling match." This opinion costs women money.
Get this, the book also revealed that women will voluntarily pay $1,353 to avoid negotiating the price of a car and that women are more pessimistic about what they can get from negotiating, so they typically ask for and get less than men – 30% less to be exact. Even worse, 20% of female adults – that's 22 million people – avoid negotiating at all, even though they know that sometimes negotiating is called for and necessary.
You may think these statistics come from one source and they could be biased, but there are countless other sources that show that women have difficulty negotiating for raises or their job offers.
In fact, compared to other places in the world, North Americans negotiate a lot less, but it hasn't always been this way.
"One hundred years ago, Americans used to negotiate because we weren't as affluent as we are now. After the Second World War, we had a monopoly on a lot of the world's manufactured goods and people had to deal with that kind of ultimatum, so a (no choice on the price) attitude became much more pervasive," said Herb Cohen when I interviewed him about the art of the deal in 2010.
Herb Cohen is one the world's foremost negotiators. He helped create the F.B.I.'s hostage negotiation program, he advised U.S. President Jimmy Carter on the Iranian Hostage Crisis and he is arguably credited with coining the term, "win-win situation."
As a woman, you may suck at negotiating, but like Cohen told me, "Anything that's the product of a negotiation can be negotiated for. You just have to know how to do it effectively."
So without further adieu, here are a few ways to do just that.
Do Some Research Before You Suit Up
WikiHow recommends finding out how much what you want is going for by either comparing prices online or visiting other stores in your area. Make sure you're comparing apples to apples and you're not looking at a used product or one with considerable damage that isn't what you're buying. Arm yourself with proof of lower prices in case the store clerk is willing to match or beat them. Also familiarize yourself with the various features of the product and how they compare with other models or competing products, so that you know the difference between them and value of each and can set the perimeters of the deal.
Have Your Lowest Price in Mind Before You Start
Thanks to the research you do, Kiplinger points out that you should have a fair price in mind – or at least the lowest price you're willing to settle for – and you can use the research you've done to make your case. However, don't name that price. Staying quiet can work to your advantage, as silence is awkward and can get the seller to volunteer a lower price, especially if it's the end of the day or the seller looks eager to leave or close the deal. Get them to quote a price first and then ask how much they can come down, don't give them the price you have in mind. Never give away a number right away. If the seller says "Yes" you'll never know if you could've gone lower and got an even better deal.
Keep Negotiations Friendly
Too many people see a negotiation as a battle with a winner and a loser, but most expert negotiators say that if one of the parties involved in the deal goes away unhappy, then you have haggled wrong. According to The Telegraph, you should start by building a rapport with the salesperson. Smile, ask for their first name and give them yours. Then you can start with a little small talk before you get down to business. Get them to show you the product that you're seeking and walk you through its features. You may know this information already thanks to your research, but it can help put the seller at ease and make them eager to help you.
Remember, you want them to work with you and not against you. You also want to help them out and try to create a win-win situation for both sides. Ask them about their current stock because maybe if they help you with a deal, you can help them by getting rid of some of their overstock. Frame all your discussions as if you need them to help you.
Look for Flaws, Defects or Age Indicators
You should never pay full price for a flawed or damaged product, so if you spot flaws, point out what's wrong and use it as a reason you should get a deal. You can also use the same tactic if you're buying a floor model, used products, last year's model, or the last one left.
Never Take No for an Answer and Always be Prepared to Walk Away
Don't just say you'll walk away if you can't get a deal – actually do it. Stand your ground and keep asking the salesperson questions. Don't let them rush you into a buy, take your time and work all the angles. Know that if it doesn't feel right, you can walk away at anytime and make sure the salesperson knows that. If they see a potential sale walking out the door, they may suddenly get a bit more cooperative.
Bundle Your Items
Before you start in on the big main event item you you've come for, take a look around the showroom floor and see if anything else catches your fancy. If something does, put it in the back of your mind because you may be able to save that one for later. The more you're able to bundle your purchases together, (doing the seller a favour by taking more merchandise off their hands) the steeper the discount you should be entitled to.
There you have it, did we miss anything? What's your favourite haggling strategy and are women really as bad at it as people think? Leave your answer in the comments below.

Photo credit: Keith Chastain