"Lions, bears, and tigers, oh my!"
In the real world, it's more like "spiders, ants, and bed bugs, oh my!"
During spring and summer we seem to be getting more pests than we normally would in the winter.  Just went you think you've gotten rid of them, they often come back with a vengeance and this can be both annoying and anxiety provoking.
Getting rid of pests can be expensive if you end up using an exterminator and even if you used insecticide, it's probably not a good idea to be inhaling these harmful substances.
Here are some tips on how to get rid of common indoor pests like ants, house spiders, and house flies the frugal and eco-friendly way.
Ants:
First you have to remove all sources of food for the ants.  Make sure crumbs are cleaned off, the floor is clean (and without crumbs) because this is what the ants are attracted to.
Sure, you can buy all the potent ant sprays but if you would rather not breathe those chemicals on a regular basis, borax works really well.
You can buy a pack of 3 borax containers from Dollarama (my favourite dollar store) for $1 and these worked really well.  I've used ant glue traps before and they definitely don't work as well.  The ants bring the borax back to the colony where it kills the colony.  Borax is a natural alkaline substance that is toxic to the ants.
Alternatively you can create your own ant Borax device.  All you need are small trays (e.g. the screw tops of small jars or containers) and you mix one part borax (which can be found in the laundry aisle at your local supermarket) and equal parts sugar.  The ants will be attracted to the sugar but will carry the borax back to the colony.
Finally, cinnamon works really well in repelling ants and you can sprinkle cinnamon at your back door or front door or wherever the ants come in.
You'll have a fresh cinnamon bun smelling ant-free home!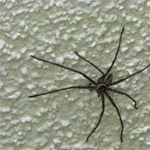 House Spiders:
Although scary looking (they can get really large and disgusting looking… yeuch!) they are actually helpful in some respects because they eat the bugs, flies, and other pests in your home.  House spiders like to keep cool so you might see them more often in the summer in your basement.
They are resistant to pest control companies and extermination anyways because they walk on their feet, their body doesn't touch the ground at all, and the pesticide doesn't touch them.  However, if you spray Raid or Black Flag directly on them this will kill them (but we wanted eco-friendly so this is out of the question).
To get rid of them, you can either catch them and set them free (the cup and paper under the cup method works the best), or try and get rid of them for good.
To do this, you will need to vacuum regularly, and this also means vacuuming the cobwebs away.  Vacuuming gets rid of any spider eggs that might be lying around waiting to hatch.  Making sure there are not other bugs in your home is really important too.  If you eliminate the spider's food source (bugs) then they have no reason to come in.
Another thing I am going to try is the ultrasonic device that you can plug into your wall.  The way this works is that it creates a high frequency sound that pests including ants, spiders, and even mice cannot tolerate (but that human ears can't hear).   It takes a few weeks to work.  I ordered it and haven't received it yet so will let you all know if this works for us.
Bed Bugs
"Don't let the bed bugs bite!"  I used to think that this was just a saying but now realize there is such thing as bed bugs.  And they're more common than you think (be wary if you are backpacking or traveling through hotels often) and very difficult to get rid of.
This is a terrible thing to have in your home and in your bedroom.  We are lucky not to ever had this pest but certainly are wary of the possibility some day.
The pesticides the exterminators use are very toxic, very costly, and there is current discussion that bed bugs may be becoming resistant to these sprays.
Bed bugs feed a few times a night and they bite in a "breakfast, lunch, and dinner" pattern.  You can see if you have bed bugs by checking the headboard, the crevasses of the mattress, and the box spring.  They like to hang out in dark areas and come out at night to feed on you.
There are three ways the bed bugs can be killed without chemicals.
1)      Throw away the mattress and possibly even the bed frame (and use a plastic cover sheet in the future) - Unfortunately this is costly
2)      Heat - depending on how bad the infestation is, you might need to call pest control for this
3)      Extreme cold (below freezing)
To prevent bringing bed bugs home, be wary of sitting on any fabric material in public places.  Recently bed bugs have been found at a local movie theatre, so just be careful!
Bargainmoosers, now that we have you all itchy from the thought of creepy crawlies, do you have frugal tips on how to get rid of these or other pests?
(Image credits: pangalactic, kthpryn)