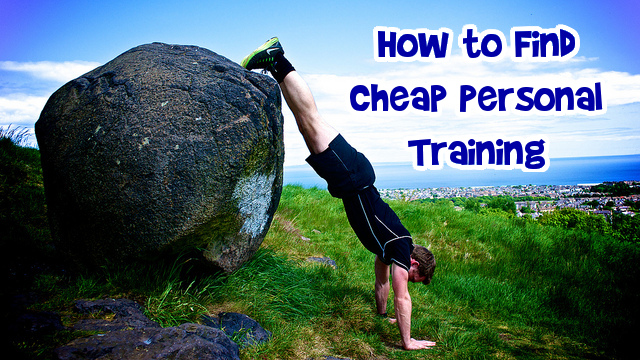 It's that time of year!  There have been lots of workout-related New Year's resolutions which have been committed to, but it's tricky to find cheap personal training.  Personally, I like to hire a personal trainer to kickstart a new workout regimen or weight loss initiative.  I like to try new forms of exercise, and hiring a professional is often-times the way to go.  Typically, I will purchase five to ten training sessions with a PT, and I will meet with him/her 1-2 times per week until my sessions are used up.  By then I have gotten into the workout rhythm, and will continue on my own until something like Christmas happens, at which time I fall off the wagon!  Like I have written about before, in losing weight on the cheap, I have personally shed 50 pounds in two years, and exercise is a critical element to keeping the weight off.  Below are some helpful suggestions on finding cheap personal training.
Ask for help
If you have people around you who are into working out, they will likely refer you to good personal trainers.  As an example, when I started my job, I was just starting to consider getting into shape, and a co-worker (who conveniently used to be a personal trainer), referred me to one of her personal trainer friends who was starting her own practice.  She was looking for new clients, and was offering a sweet deal for referrals.  Her gym was out of her garage, but it was fully equipped with everything we needed for an effective workout.
Search for trainers who are just starting out
Every personal trainer has to start somewhere, and not all of them are affiliated with a gym.  Check kijiji for PT's who are looking to build their client base.  They will often offer great deals for new customers.  Some will even train you at home.  Buyer beware, however, please be careful when inviting people you don't know to your home. 
Start a free workout group
The aforementioned co-worker, who used to be a personal trainer, started a lunch-time boot camp program, which was free to myself and my coworkers.  We ran to the local park, and she set us up with different circuits to do.  Her passion is to help people be healthy, so it was fun for her to organize the workouts, and to coach people along the way.  Ask around, there will likely be a co-worker or friend of yours who is a personal trainer, running group facilitator or another form of fitness enthusiast.  Work out on your lunch hour, or after work.  Working out with a group will hold you accountable, and will make it more fun.
Buy in bulk
Generally speaking with personal training, the more you purchase, the cheaper it is.  As an example, at many gyms if you purchase 5 sessions, they will cost you around $65 per session, for a total of $325.  If you purchase 20 sessions, the price could be as low as $50 per session, for a total cost of $1000.  By buying in bulk, you save nearly one third of the cost.  Ask if you can split your sessions with someone else, and if you don't want to continue with your sessions, be sure to negotiate the ability to sell your sessions to someone else.
Ask for deals with your gym membership
The perfect time to negotiate the cost of personal training sessions is when you are purchasing your gym membership.  Negotiating a deal upfront is the very best way you will get the best rates.  When you are already a member at a gym, they are much less likely to offer specials or promotions. 
Online resources
These days there are a TON of excellent online resources.  Although you won't get the personal service and hands-on expertise of in-person personal training sessions, sometimes partnering with someone who is online is a good way to go.  Their rates are extremely inexpensive, and they will set you up with workout routines specially designed for you. Bodybuilding.com is amazing and Free Trainers is really cool.
Silent auctions and deals through group buy sites
I started my fitness journey with a women's only boot camp which I bought through Groupon.  I paid $50 for a 3 week membership, and it gave me an inexpensive trial to see whether it was something I could stick with.  Although it was a group class, each class was small, so it felt like a personal training experience.  I recently bought a 2 session pass with a newly qualified personal trainer through a neighbourhood silent auction.  Honestly, I bought it to help the auction, not thinking that I would stick with the trainer, but it turns out that I absolutely love her.  I have since signed up for more sessions with her, and her session rate is very reasonably priced.  Plus, I like partnering with someone who donates their resources to the betterment of the community.
Workout with friends
You can usually get a good deal on personal training if you can gather a few friends together for a group session.  As an example, my newest PT charges me $25 for a half hour session.  If I got one or two friends to join me, the session rate increases to $30 per half hour session, but the cost individually drops to either $15 per session (based on two people participating) or $10 per session (based on three people participating).
Finding a good personal trainer can be tricky.  Be sure to reach out to people around you who have been successful in their fitness journey, and take time to find the right fit for you.  Do you have more suggestions on how to find cheap personal training?  Please share them below.
Photo Credit: Living Fitness UK