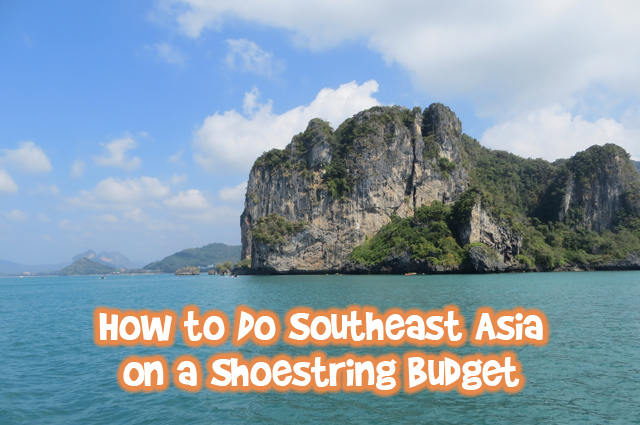 Do you dream of backpacking through Southeast Asia, but worry that you won't be able to afford much more than the plane ticket to get there? After spending 3 weeks in Thailand, I can assure you that it is absolutely possible to travel on a shoestring budget as long as you follow some of these tried and true travel tips.
Travel Light and Buy When You Get There
No matter if you are visiting Malaysia for a week or backpacking through Vietnam, Laos, and Cambodia for six months, traveling light is not only good for your back but for your budget too. If you want to be prepared before you take off, make sure to pack the essentials such as a Swiss Army knife, flashlight, quick dry towel, guidebook, and a compass. Otherwise, if you still need some travel clothes, soap, or a paperback book, wait until you've reached your travel destination. You'll be able to find weather appropriate clothing, toiletries, used books, and many other things at a fraction of the cost.
Borrow Instead of Buy
If you really want to save some money, try to avoid buying travel equipment altogether. Spread the word to your friends and family that you are looking to borrow a backpack, some clothing, or anything else you'll need for your travels. You may be surprised how many people are willing to help you out. Just make sure to bring them back a token of thanks; otherwise they may not be so keen to help you next time.
Eat Like a Local
Although there are a lot of Western restaurants and coffee shops throughout Southeast Asia like McDonalds and Starbucks, if you want to get the most bang for your buck you need to eat like a local. This means foregoing the quarter-pounder with cheese for an order of green curry instead. Local dishes are exponentially cheaper than Western food, not to mention absolutely delicious. That being said, beware that once you develop a taste for authentic Southeast Asian cuisine, you'll never be able to go back to the Westernized version you get at home.
Adjust Your Standards
When you're traveling to a foreign country, one of the most important things you can do to ensure you have a great trip is to adjust your standards. Nothing will be quite like it is at home, so get used to it; unless you want to pay a bit extra for everything that is. You can save a substantial amount of money by opting to stay at a hostel or guesthouse instead of a hotel, and choosing a fan-only room with a squat toilet instead of an air-conditioned room with a full bathroom. Yes, not having a toilet and sweating through your sheets may not sound like a bundle of fun, but your bank account will thank you later, plus you'll have some great "roughing it" stories to tell everyone when you get back home.
Final Tips
If you plan on shopping for some souvenirs at the local markets, learn a few phrases in the national language such as "Hello" and "How much?" to help you score a better deal when bartering. Also, do some research beforehand to see if some parts of the country you are visiting are cheaper than others. For instance, the south part of Thailand is substantially more expensive than the north because it is a more popular tourist destination. Lastly, don't bring anything with you that you cannot afford to lose. Muggings can be common depending on where you plan to go, so make sure to never carry that much cash on you and avoid bringing any expensive electronics with you as well.
Bargainmoosers, have you been to Southeast Asia before? What did you do to save money while traveling?
(Photo credit: momoneymohouses)