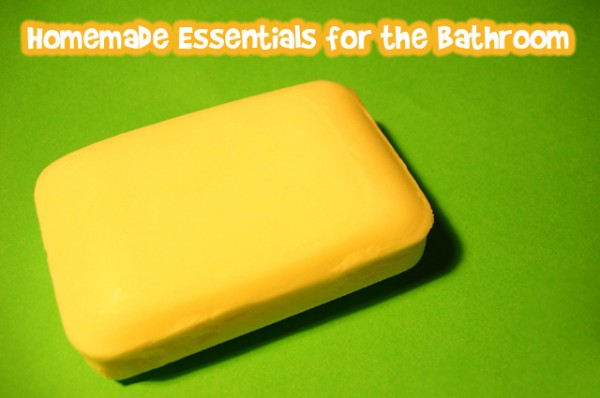 Homemade bathtub paint
Do your kids get bored with their regular bathtub toys? This recipe for homemade bathtub paint is not only cheap and easy to make, it's also fun for the kids and easy for you to clean up afterwards. Team Dischinger explains that all you need is 1 tbsp of cornstarch, 4 – 6 pumps  of baby shampoo, 2 – 3 drops of food coloring, and 1 – 2 tsp of water to make a batch of this endless fun for bath time.

Homemade soap pouch
Who needs a luffa when you can cut up an inexpensive washcloth, sew it into a pouch, and put a bar of soap in it? It's easy to make and is also reusable since you can just throw it in with your laundry when it needs a good clean. Thank you to Whimsy Love for this great idea.

Homemade toothpaste
Sure, it's easy to just pick up a tube of toothpaste at the supermarket, but do you know what's actually in it? There may be more chemicals in that little tube than you think, plus you can make your very own homemade toothpaste using 2 tbsp of glycerin, 4 tbsp of baking soda, and 5 drops of peppermint essence for taste as instructed by Melanie over at Frugal Kiwi.

Homemade Deodorizing Disks
If you want to make sure your bathroom always smells fresh, these do-it-yourself deodorizing disks may be just what you need, instead buying endless bottles of Febreze. It just takes 2 cups of baking soda, 1 – 2 cups of distilled water, lavender essential oil, and a muffin pan or silicone mold to make.  This recipe was found on One Good Thing's blog.

Homemade Deodorant
Speaking of deodorizers, this recipe for homemade deodorant is both frugal and green. Using a few special ingredients such as arrowroot, coconut oil, and beeswax flakes, Emily at Live Renewed shows that you don't have to buy aluminum-filled antiperspirants to smell good and stay dry. Moreover, she explains that this recipe only takes 10 minutes to make!

Bargainmoosers, what homemade recipes do you use for your bathroom?