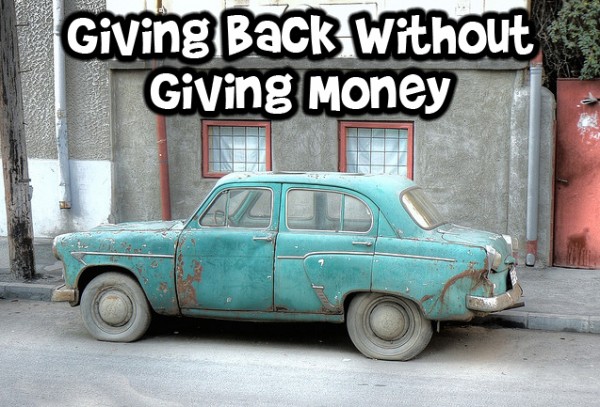 As important as saving your money is to living a financially responsible life, giving back to your community should be given just as much significance. However, when you yourself are struggling to live within your means or pay down debt, donating a few hundred dollars to charity may not seem possible when going over your already tight budget. Fortunately, there are a number of ways you can make a difference and help those in need without having to open up your wallet. Although most non-profits and charitable organizations depend on cash donations to continue doing their good work, donating your used goods, your body parts, and even your time can go a long way too.
Donate your car – Have you driven your car into the ground? Instead of trying to sell it for parts, you can get Donate a Car Canada to take it off your hands for free. Not only will you receive a tax-deductible receipt, but you also get to choose which charity your donation will benefit. Donate a Car Canada will come pick up your car and recycle it, and then will send a cheque based on your car's value to the charity of your choice like Kids Help Phone or Canadian Breast Cancer Foundation. Not a bad way to get rid of something you used to call an old hunk of junk.
Donate your bike – If you have an old bike currently taking up valuable space in your garage or basement, you can donate it to Bicycles for Humanity to ensure someone in Africa will get good use out of it. Many Africans don't have any means of transport besides walking, as taxi services can be expensive and unreliable and many towns and villages do not have public bus transportation. By donating your underused bicycle, you could be giving someone a means of mobility they never had before.
Donate your glasses – Instead of keeping all of your old glasses in your junk drawer or tossing them into the garbage, you can donate them to someone who would not be able to afford prescription eyeglasses on their own. The non-profit OneSight takes donated eye-wear and has their trained volunteers hand-deliver them to adults and children around the globe. The Canadian Lions Eyeglass Recycle Center similarly accepts donated eyeglasses and distributes them to people in need in developing countries. Donating to CLERK is as easy as dropping off your old glasses at any Wal-Mart Vision, Superstore Eyewear, or Zellers Pharmacy, and OneSight accepts donated glasses at LensCrafters, Pearle Vision, and Sears Optical.
Donate your organs – Are you a registered organ donor? If you don't mind having your organs harvested after you die, you may want to consider registering as an organ donor to help someone or even multiple people in need of a new heart, pair of lungs, or liver. You can also register as a living donor, which means you can donate one of your kidneys or your liver while you are still alive. A few advantages to participating in a live donation are the patient doesn't have to wait as long for a transplant, and the organ has a better survival rate. Moreover, you may actually get to experience seeing your good deed realized while you are still alive.
Donate your hair – Did you know that it takes up to 12 donations of hair to make one child-sized wig? If you like to grow your hair long, or even want to save some money by skipping the hairdresser's for a year or two, consider chopping off your long locks to help out a cancer victim. Once your hair is a minimum of 8 inches long, and you have followed the appropriate guidelines, all you have to do is mail your donation to the location nearest you as noted on the Canadian Cancer Society's website. You can also donate your hair specifically to help children who have lost their hair due to a medical condition through the Angel Hair for Kids program, part of A Child's Voice Foundation.
There are plenty of other ways you can give back such as donating your used clothes, your furniture, and even your blood, but if you really want to jump in and get involved, there's no better donation than your time as a volunteer. It's a great way to help out hands-on, meet new people, and the periodical volunteer "Thank You" party is a nice perk too.
Bargainmoosers, what do you do to give back when you're tight on cash?
(Image credit: Bogdan Suditu)