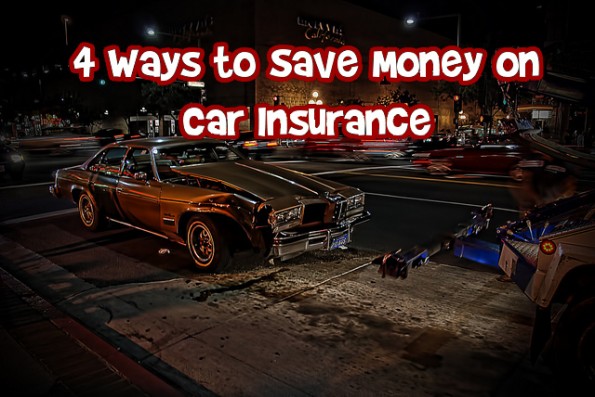 Out here on the West Coast, there are limited options for car insurance, however in other parts of Canada you have the opportunity to save more money on car insurance.  Car insurance is not cheap, especially if you drive a more expensive car, or a car that is found to be broken into more than other cars (for example, the Honda Civic is notorious, and even though it is a smaller car, the annual insurance premiums are quite high).
Seeing that car insurance is one of the major costs in car ownership after you own the car outright, it makes sense to figure out how to save money on car insurance while simultaneously making sure that you are covered if anything untoward were to happen to your car or yourself or others on the road.
Here are a few ways to save money on car insurance.
 Opt for a Higher Premium
Insurance is something that we hope we don't need, so if you're a careful driver, hopefully you won't need to pay the deductible.  According to GetSmarterAboutMoney.ca (an initiative from Ontario through the Investor Education Fund), if you choose a higher premium, then you won't have to pay so many fees upfront.
For example, let's say your windshield damage deductible is $100.  If you raise it to $300 you will pay less of an insurance premium.  You'll obviously have to pay more for the deductible if you damage your windshield, but if you're okay when it happens (or IF it happens) it will work better for you in the long run.  Basically, the more risk you take on, the cheaper your insurance will be.
Drive Safe
Just like many things in life, the more years of experience  of safe driving you have, the better.  If you hit 10 years without being at fault in an accident, you are entitled to serious discounts for your insurance.  Therefore, make sure you have defensive driving, be alert, and follow the road rules (that means no texting while driving and no distracted driving).
Also, cheaper auto insurance is one of the rare reasons why getting older is a blessing, because your insurance premiums are not as high.  However, there comes a silver lining to this benefit, because when you reach your senior years, insurance premiums start to rise again, of course, because there are more accidents with seniors.
Compare, Compare, Compare
They say comparing yourself to others is a recipe for self loathing and insecurity.  In this case, comparing is a great idea because it will save you money.  LowestRates.ca allows you to compare your car insurance across the province (works across Canada) to see the difference.  In British Columbia, Quebec, Saskatchewan, and Manitoba, basic insurance is mandatory and governed by a crown corporation.
Bundle Your Insurance
Just like with your cable and home phone service, you will save money bundling and making sure your auto insurance needs are met with house insurance or other types of insurance.  In British Columbia, you can opt for private collision insurance for such things like Third Party Liability, Collision, and Comprehensive insurance (instead of going through the crown corporation).  One such auto insurance provider is Canadian Direct Insurance, which is available in British Columbia and Alberta.  One of my acquaintances has been using Canadian Direct Insurance for years and has definitely save a lot of money compared to me, who is insured completely with the Insurance Corporation of British Columbia.  A few hundred dollars a year, actually.
In fact, oftentimes private auto insurance companies deliver better service. In a collision a rental car was provided right away.  Also, in the collision, the vehicle was considered a write-off because of the damage.  The vehicle was a used Honda Civic from 2010 (I believe bought for around $15,000) and Canadian Direct Insurance gave $10,000 to purchase a new vehicle.  Pretty good if you ask, me, I'm sure the public insurance agency would probably dole out only half of that amount.
However, at the same time, many people feel that "you get what you pay for" and have had issues with private insurers such as Canadian Direct Insurance.  Reviews from Insureye for Canadian Direct Insurance are here.
Bargainmoosers, how do you like to save on auto insurance?
Photo credit: Chris Yarzab