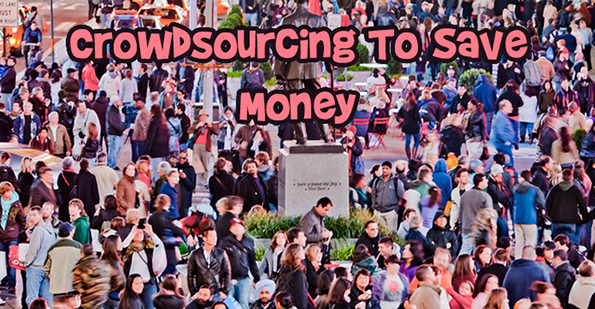 You know the old saying, "Two heads are better than one?" It has always been more true than not, which makes us think, what happens when you get three heads, four heads, five heads or more? Then you really could get things done.
That's the magic of crowdsourcing. It's soliciting services, goods, ideas and more from the brain trust of a large group of people and you can use it to save money through the following websites.

On Fiverr people with various skills, -- writers, artists, graphic designers and more – tell you what they're willing to do for a mere $5.00. As the potential customer you can see the seller's rating, look at their average time frame from the job and decide if you want to make an offer. At only $5.00 a job it's hard to go wrong, especially when professional creatives normally charge hundreds of dollars for some of the jobs on this site.

TaskRabbit allows you to outsource those necessary but menial tasks to people in your community, so you don't have to do those things you don't want to and can reserve your time for something more important. Simply post a task and TaskRabbit will show you their most professional taskers in your area for what you need done and what they charge per hour. Often, you'll find that taskers offer cheaper rates for tasks like landscaping than a professional lawn care services even with the company's own 20% service fee. Plus, its safe to trust your tasks to a stranger because every task is insured to $1 million and every tasker must follow TaskRabbit's strict marketplace guidelines or risk being barred from ever working through the site.

RelayRides takes the carpool to the next level by allowing regular people in your community to rent out their car for you to drive for as long as you book it. As a potential renter, all you have to do is pick the perfect car for you, make a reservation, pick up the keys from the owner, refill the tank, return the car at the scheduled time and review the experience. Car owners don't have to worry because the car is insured by RelayRides while it's in use. As a consumer, everything but gas is included and all prices and requirements are self-explanatory, so there are no surprises like there are when it comes to dealing with a rental company. On RelayRides, 24 hours with a 2010 Toyota Prius that traveled 150 miles cost $38.00, ($3.80 per mile) plus premium insurance protection for $15.20 for a grand total of $47.00. I have to say, that's pretty reasonable.

Like Fiverr and TaskRabbit, Elance and Odesk use crowdsourcing to help you get things done at a reasonable price. However, on Elance and Odesk you're not buying a specific job or outsourcing a specific task, you're hiring freelancers and those freelancers are applying for your job on spec. Of course, you'll want to offer the lowest price possible, (hence, the money saving) but don't undercut. Among the grossly unqualified applicants that do exist on these sites, there are some truly professional diamonds in the rough who know what a particular job is really worth, which means if you offer too little, you won't get quality work from the people who truly know what they're doing. We recommend doing a little research on typical industry rates for the position you are trying to fill, so the freelancer you hire is not insulted by the rate you offer and actually does the job to the best of their capabilities.

Say you want a logo, but you're not a very good artist. No problem, at 99designs you simply write a description of what you want and your assignment gets turned into a design contest where you provide the prize money. The bigger the prize, the more designs you can choose from drawn by professional designers. As the designs come in, you can provide feedback on the designs you like, so they can be refined, but after seven days, you must pick a winner. Once you crown a champion, 99Designs gives out the prize money to the winning designer and you get your logo that you can use (copyright included) for whatever you want. It's great for the consumer because you can get from 30 to 60 designs to choose from for relatively little effort on your part. Prices range from $299 for the Bronze Package of 30 designs to $1,199 for the Platinum Package of 60 designs from the best designers on the site. So, if you can afford it, 99Designs might be your best option for a professional illustration.

Perhaps the original destination for crowdsourced accommodation, Airbnb still makes it easy to rent a room in someone else's house or apartment in most countries you could be traveling in. Cheaper than a hotel and, at its best, a more local perspective than you can get as a traditional tourist, Airbnb is still the go to for many who utilize the share economy.

DesignCrowd works similarly to 99Designs without the design contest aspect. Instead you simply have access to a certain number of designs to choose from depending on the tiered pricing model you select. There is still that aspect of designers competing to win your business but it isn't overtly modelled like a contest. Plus, as a Bargainmoose reader, you have access to an exclusive offer giving you access to 50 free designs within five days as soon as you post a project. Oh, and if you don't like the designs, you receive your money back for the initial design package you purchased. Use the offer code BMEXCLUSIVE for this deal.
Final Thoughts
Before we conclude, it should be noted that as much as crowdsourcing could be cheaper for the consumer, it relies on a great deal of trust between the parties involved and some people aren't going to want a stranger traipsing around their house or using their car no matter what safeguards are put in place. It should also be said that many of these sites that outsource jobs, while cheaper for the consumer, take advantage of the service provider by cheapening their skills and putting the economic bar so low that other professionals in the field are unable to compete or make a proper living. So, when you use services like Elance, Odesk and 99designs, think about what is fair, not just what is cheap.
(banner image credit: Dvya Thakur)