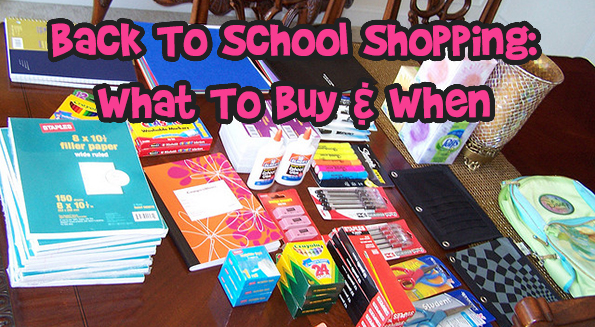 I used to love back to school shopping.  My mom always took me shopping and we would purchase a new special outfit that I got to pick out on my own, which I was always so proud of.  I've got to be honest- some years were more successful than others in terms of style, but at least she let me express my creative spirit through my clothing.  Both my girls are in school in the fall; my oldest in grade two and my youngest starting junior kindergarten.  The time is flying by, and I have mixed emotions about them both being in school.  It seems like every year my oldest daughter requires more and more school items, and every fall we are hit with a bill totalling a few hundred dollars which we never plan for.  Clothing, crayons and lunch bags... there are lots of items to buy and prepare, and there are only five weeks left until school starts. I want to plan my purchases now, so that I can budget for them appropriately.
Tech gear
According to this article from CNET, July and before-school is the best time of year to purchase computers, so if you're in the market for a new laptop for school, right now is a perfect time to make a purchase.  I found a great deal at Apple.ca; if you buy an iPad, Mac or iPhone, you get a gift card for $55 or $110 depending on your purchase. Check out this link for more information. Additionally, they have excellent financing options available. Another good option for tech gear, like computers or phones, is to purchase them through a seller on Kijiji or Craigslist.  Why pay for an item at an off-the-shelf price when you can save hundreds of dollars by purchasing it used? Also, keep in mind that if the primary use for your computer is school work, you might not need the latest and greatest computer with all the bells and whistles. By purchasing last year's model you will save hundreds of dollars, so be open to older models. Also consider floor models- sales reps will be more likely to negotiate with you on these older computers as well, so don't be afraid to haggle.
School supplies
Every year I think that all I need to buy is a pack of crayons and a box of tissues, and I'll be set for school supplies for my daughter; I am always proven wrong when I get the page-long list of items required by my daughter's teacher.  Crayons, tissues, markers, hard-cover pencil cases, etc, are all items which are required on a yearly basis.  Check out this wiki on How to Save on School Supplies for some great ideas to save you money.  I like tip #5, which is to check the weekly store advertised specials.  I know roughly what the items are that both girls need, so I will start, beginning now, picking up items when they go on sale.  I'd much rather make some smaller purchases leading up to the start of school then have to buy everything at once.  It will be much easier on my wallet this way.  I might also be able to re-use some of my daughter's supplies from last year, specifically, her pencil case and her lunch bag.  I'm sure we could re-use her backpack too, as it's in decent shape, but I like the tradition of shopping for a new backpack with her. It makes her excited about the beginning of the school year, and she takes pride in her stylish pack.
End of summer clothing sales
Let's be honest, what time of year don't kids wear plain t-shirts, golf shirts or sports clothing?  I think it makes sense to stock up on clothing at the end of summer, as basics like t-shirts, shorts and light sweaters can be worn at any time throughout the year.  I know where I live, summer clothing is already starting to go on sale.  I will be purchasing clothing for my kids in a size larger than they are now, so we have "new" clothes they will fit into midway through the winter and at the beginning of the school year.  I want to continue my mom's tradition of purchasing my girls one special first day of school outfit that they get to choose, and I will be sure to purchase these on a day when the store I am purchasing from has a special, or I have a store coupon or an AirMiles extra miles coupon.   I could always be on the lookout for a sweet online deal, but I love the tradition of going back-to-school shopping with my kids, having them try on their new duds, bringing them home in their shopping bags etc.  I get excited just thinking about it!
Don't forget that there are lots of needy children who don't have the luxury of being able to afford new school supplies, so be sure to pick up a few extra packs of crayons or markers and donate them to your local food bank or charitable organization.
Online shopping is a fantastic way to pick up some super deals, so be sure to check out Bargainmoose regularly to take advantage of some amazing sales.  There are often entire tax-free weekends at stores like Loblaws and Superstore, consider stocking up on supplies then.  Also remember to price match all of the great deals at places like Walmart, No Frills and Target- they have excellent price match policies and they want your business.  If you regularly shop at one of those stores, why not bring along your flyers and price match school supplies?
Bargainmoosers, how have you saved money on school supplies?
(banner image credit: Heather Elias)