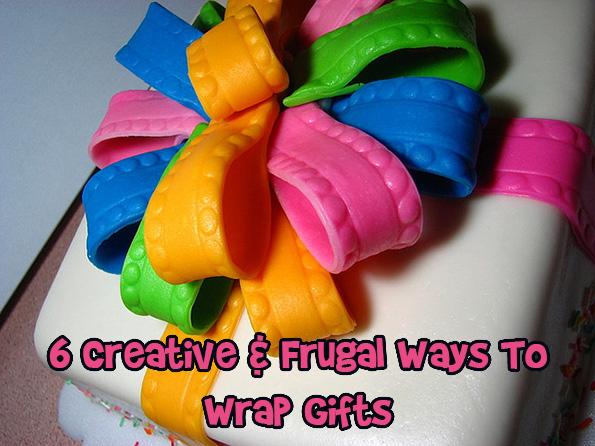 Wrapping paper can be so expensive! You think you are getting a deal with six rolls for $5 but a roll can barely wrap one gift. I once got a gift from my nieces and nephews wrapped in their paintings. I loved it! I thought it was creative, they put their all into it and it was a great way to use up those paintings they've made and give them a purpose. Here are six more creative, yet frugal ways to wrap gifts.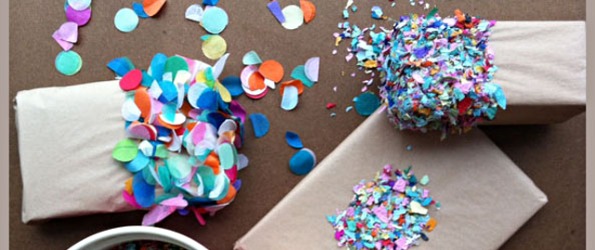 If you are a scrapper, you undoubtedly have paper scraps kicking around. I have a huge collection of them that I won't get rid of, just in case. This is a creative and very unique way to use up paper scraps - making confetti to glue on your gifts. I  bet you'd never received a present so frilly! Learn how at the Wantist.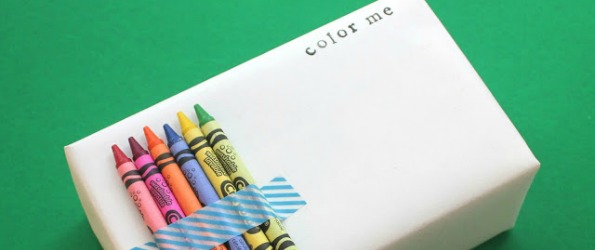 If your gift is for a child (or the young at heart), how about getting them to decorate their own wrap? Use regular craft or white paper, attach some crayons with washi tape and presto! They can decorate their gift on Christmas Eve or any time before the regularly scheduled unwrapping will occur. Very creative idea Lines Across!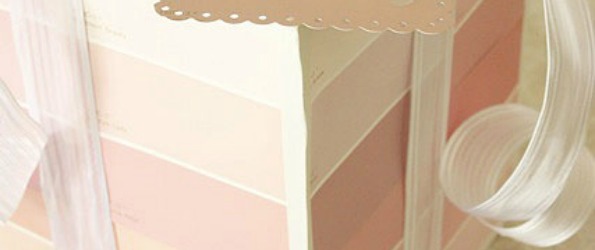 Pretty Handy Girl came up with this ingenious way to wrap gifts using the ever-colourful and free paint chips! Simply glue them on to your box for a colour co-ordinated and pretty wrap.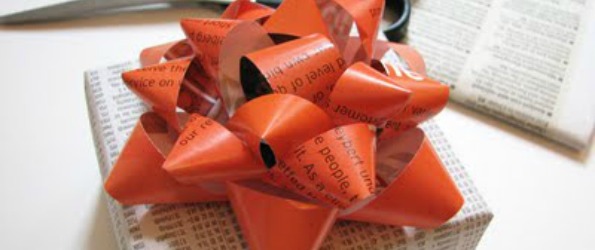 How About Orange used newspaper to wrap the gift and a magazine to make a bow. You could use any sort of page you like, including the colour comics, the drab stock report, but I wouldn't recommend a murder or terrorist story.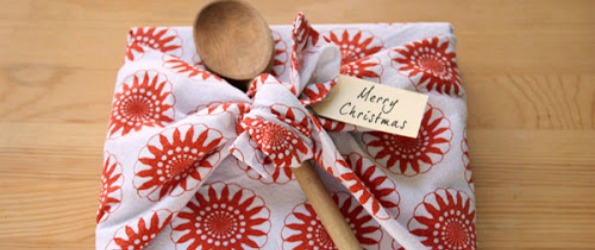 I actually received a wedding shower gift like this, wrapped in a tea towel. I'm going to hazard a guess and say that everyone who lives on their own could use a tea towel. It is pretty much the gift that can't go wrong. Even better, wrap your gift in the tea towel gift. It can look so pretty and completely reduces any waste. I got this brilliant idea from The Gifted Blog.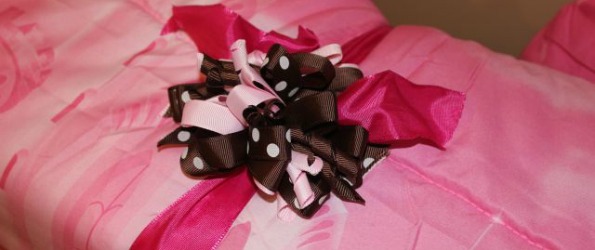 Must Have Mom really stepped out of the box (literally) for this gift! She was giving her daughter a large gift and the wrapping paper would have been so wasteful. Instead, she used the comforter she was also giving to wrap the large gift! To top it off, she used new hair bows for her daughter as the bows on top. Love it!
What I really, really love about these ideas is that they also reduce waste and make for a greener Christmas! Bargainmoosers, what are you doing this year to the gifts you are giving? Let me know in the comments below.
(banner image credit: Ken's Oven)