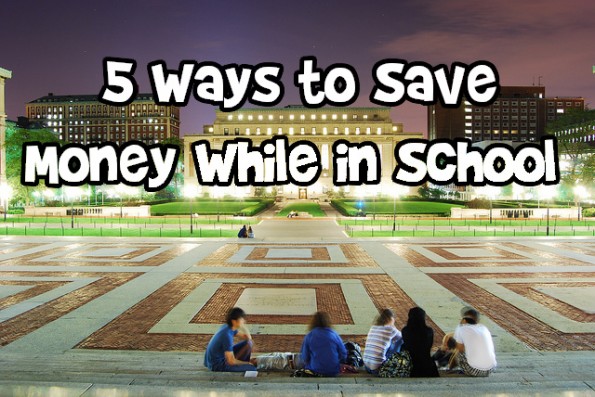 Whether it is your first time in university or college or whether you are returning back to school after a long period of being in the workforce, it is generally agreed upon that school is expensive.  Although furthering your education can help you develop your career and improve your income by leaps and bounds, it might not feel like this at the time.  You might just feel like a poor student.  However, sometimes being a poor student does have its perks, and so being able to save money while you are in school becomes less difficult and easier to accomplish.
Here are some strategies that will help you save money while you are in school.
Max Out Your Student Perks
Just like Gail Vaz-Oxlade suggests in this Moneysense article on saving money at school, max out your student benefits.  The rest of the world knows that you are a starving student, why not take advantage of it while you can?
Bus passes, museum tickets, concert tickets, Greyhound bus pass, Air Canada flight passes, Vancouver International Film Festival tickets... the list goes on.  There are many places that offer a discount for students.  One of the most recognized student discount pass (especially if you plan to go abroad) is the ISIC card, or the International Student Identity Card.  It lets the people from the foreign places you plan to go to know that you are a starving student.
Hit the Student Gym
If it's already included in your fees, why not use it so you are saving money on a gym membership or a monthly yoga class?  Student Universe also states that most schools have a student gym and some even have classes like yoga or pilates that you can take.  These classes are normally very expensive so it makes sense to take advantage of it while you have a student gym pass/ access to enjoy.
Get a Part-Time Job
I personally worked throughout University (both times I went) with a part-time job.  Sure, there were times when I felt really time-crunched, however, I think working allows you to prioritize and to focus on things that matter.  Plus, knowing that you will finish your education program without as much debt as you could have had is priceless.  I believe that working gives you the onus to prioritize and get organized, two skills that are essential as a student.  Of course, you cannot work so much but personally I like to feel productive and I like the organization.  Being organized in my life helped me become organized for my main job.  Although, I only worked 10-15 hours per week with the part-time job in the evenings and weekends.
Buy Used Textbooks
Skip your university or college bookstore, the best place to buy your books is (like most things nowadays) online.  From Bargainmoose, here are some places that you can buy used text books.  Personally, I saved a few hundred dollars buying my textbooks from Amazon.com and then picking it up across the border, rather than going to my university bookstore to buy the books that they recommended.
You could also take advantage of the coupons we have here on Bargainmoose for stores like Bookmob and Textbook Rental and even rent your textbooks.
All you need is the ISBN number from the list your instructor tells you to get, and you just plug that into Amazon.com or Amazon.ca.  Of course, there are a lot of other places to buy your used text books, instead of Amazon.com.  The great thing is that you can resell your books to Amazon.com and then get a gift card for the value of your used books.  No fuss, no muss really.
Pack Your Lunch
Finally, just like for those who work full-time, packing your lunch or avoiding that daily coffee is going to save you ton of money in the end.  Considering a lunch is at least $5 to $10 per day, that's at least $1000 per year (averaging 4 lunches per week).  That is enough for a last minute ticket to Mexico for spring break!  Besides, packing your lunch is good for your waist line too, and at least you know what you are putting in the food.  Knowing that you are saving day by day is priceless.
Bargainmoosers, are there other ways that you saved money while in school? 
Photo credit: Beraldo Leal