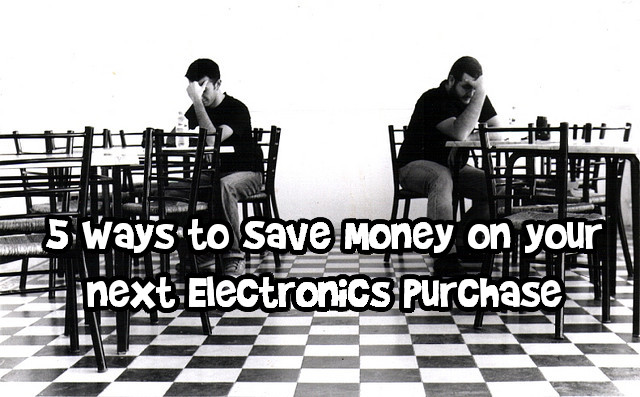 I remember when flat screen televisions used to cost $2000 to $3000 for the latest LED technology or plasma technology.  Nowadays you can get a flat screen television for well under $1000.  Technology and electronic gadgets have a very unique characteristic about them that is unlike any other thing that you can buy... newer, smaller, faster, more updated versions keep on coming out to the public.  Some even more frequently than yearly (such as the iPhone 5 and the iPhone 6).  Remember the first iPod?  Then the iPod touch? Now the Apple watch?  Sometimes it is hard to keep track of it all.  One thing is for sure though, electronics are not cheap.  Especially the "first" for something, these products are is never easy on the wallet.
Whether it is new electronics or older technology electronics, here are five ways that you can save money on your next electronics purchase so that you have more money for the important things in life!
Take Advantage of Discounts
The Apple Store gives you an education discount if you go to a school that is on their list or are a parent of a student or a teacher etc... You even get the discount if you are enrolled in school but have not started school yet.  Head to The Apple Store for more details and to see if your school is on the list.
 Sell Your Old Stuff
Consumer Reports recommends that you sell your old device first (or at least make sure you can sell it) because over time it will depreciate even more.  Oftentimes you will be able to get some good money out of your old device.  A lot of people want to use it for parts even if it's too slow for you or not working properly.  For example, my 2009 Apple Macbook Pro could probably still fetch $300 or more (which will give you a nice "discount" on your new Macbook Pro purchase, which will likely cost over $1100).  You can easily sell it on Craigslist, or even trade it on Amazon.com for a gift card (though you would have to ship it from the United States and that can be tricky with customs).
Don't Snub Refurbished
I am a pretty big fan of refurbished goods.  What are refurbished goods?  Refurbished electronics are electronics that have been returned to the manufacturer and restored to a like-new or almost-new condition and resold.  Often the discounts from a new product can be 30% or more off.  For example, I got a laser fax/scanner/printer many years ago that was refurbished.  I'll admit, I was a little wary at first but was very happy with the steep discount of 40% off what it would normally cost.  Also, usually refurbished products have the same warranty as the new products, so there we go, peace of mind!  The printer is still working amazing and I am still very happy with it.  Payoff.com suggests that refurbished electronics can save you a lot of money in the short run.  It's also good for the environment because you're taking it away from where it would normally go, the garbage.
Time Your Purchase
If you time your electronics purchase throughout the year you might be able to save a bit more money.  According to Lifehacker, there is a perfect sweet spot time to buy anything.  Electronics, televisions, and computers etc., are best bought in November and December, which does not surprise me with Black Friday, Cyber Monday, and Boxing Day deals in full effect during these two months.
Ask to Price Match
One great thing about Canadian retailers is that electronics stores are pretty liberal about price matching.  Check out Hippowises' easy-to-read table and easy-to-use guide on how to price match in Canada.  It tells you each electronics retailer information and how much their Price Match Guarantee is.  For example, Best Buy and Future Shop are on the list, so is Memory Express, Staples, and NCIX to name a few.  Most companies will match the price and also beat it by about 10% or even better.  It all varies according to what was advertised and which store is being pitted against which store.
Bargainmoosers, how do you like to save money on your electronics purchase?
Photo credit: Vassilis Galopolous