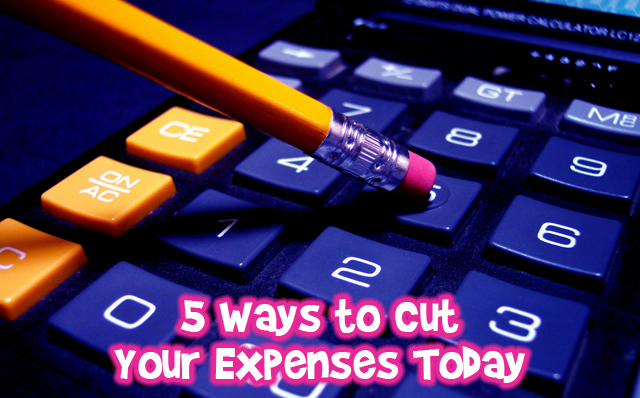 Cutting your expenses is essential to creating a budget that allows for maximum savings. It isn't always easy saying goodbye to some of your creature comforts and changing up your routine to do so, but if in the end you save hundreds or thousands of dollars a year, isn't it worth living like a minimalist for a little while? To get yourself started, here are a few easy ways you can cut your expenses today.
1. Switch to a No-Fee Bank Account
Banks like Scotiabank, Bank of Montreal, and Royal Bank charge customers a fee of $10 - $15 each month just to have an account with them, in addition to charging a separate fee for debit card transactions. If you're like me and hate to pay unnecessary fees, it might be time to switch to a different bank or credit union. Financial institutions like Coast Capital Savings, ING Direct, and President's Choice Financial all offer no-fee chequing and savings accounts and don't charge for debit transactions. Just think, if you stay with a bank for 20 years that charges you $15 a month, you'll be spending $3,600 in banking fees. Wouldn't you rather put that money to better use, like making interest on it in your no-fee high interest savings account?
2. Cut Your Cable
These days, there really isn't a good excuse for anyone to be spending $70 a month on cable. Many TV networks like Global, CTV, MTV, Slice, and CityTV allow users to stream their TV shows for free, not to mention all of the free episodes you can watch on YouTube and iTunes. If you want more variety, it might be worth spending the $7.99 for a monthly subscription to Netflix. Last but not least, there are always the free TV show and movie rentals you can take advantage of at your local library.
3. Stop Buying Junk Food
One of the best ways to lose weight is to cut out any junk food from your diet, and what's even better is it's a great way to save money too. If you are in the habit of treating yourself to a latte on your way to work or never missing an episode of Modern Family without some salty snacks, it's time to change things immediately. Instead of munching on a bag of chips for $5, grab a 1kg bag of carrots for $2.50 as a healthy and cheaper alternative. Instead of sipping on a 750ml bottle of Pepsi for $1.50, drink some refreshing and free water from the tap. Your body and wallet will thank you later.
4. Shop Online
Have you ever been to a store to buy something only to find out later that you could have bought that same thing online for significantly cheaper? Shopping online isn't just convenient, it can save you a ton of cash if you search for the best deals and use online coupons or promo codes. It can even save you on shipping costs, as long as you take advantage of the website's free or discounted shipping prices and send it directly to your desired recipient. Websites like BargainMoose are great resources to use when you want to save money when shopping online.
5. Make Meals at Home
Going out to a restaurant is a great way to socialize, celebrate, and enjoy life, but when the bill comes and it says that you just spent $50 on a salad and a glass of wine, it might be time to reconsider how often you eat out. It's common knowledge that making your own meals at home is a cheaper and healthier way to eat, so whip out that recipe book and awaken your inner chef!
Bargainmoosers, what do you do to cut your expenses?
(Image credit: cohdra)