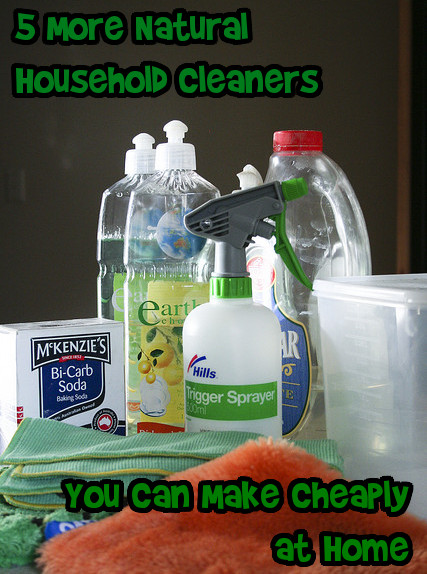 Earlier, Jessica posted a great list of 5 Natural cleaners you can make for cheap at home. Well, here are five more to add to that list!
With increased focus on the toxic and harmful effects that traditional cleaners can have on your body (have you seen that episode of "My Strange Addiction" (HuffingtonPost where a girl couldn't stop sniffing Pine-sol cleaning solution? She ended up losing some of her hair and burning her nasal passages and worsening her asthma from all that chemical exposure.), more and more attention is being paid towards more eco-friendly cleaning solutions. Scary stuff.
Brands like Method, Clorox Greenworks, and Seventh Generation have taken the cleaning products world by storm because they are seen as eco-friendly alternatives to the conventional, environmentally harmful cleaners of the past. However, these eco-friendly cleaning products tend to be more expensive than the traditional chemical-laden products and it is certainly more difficult (in my experience anyways) to find coupons to use to lessen the cost burden of eco-friendly cleaning products.
The solution?
Make your own dirt and grime eco-friendly cleaning products at home.
Here are 5 eco-friendly and natural cleaning products you can easily make at home (with supplies you already have in your home):
Window Cleaner
Ingredients:
3 tbsp vinegar
2 cups water
spray bottle
Mix these ingredients into the spray bottle and shake. Use as you normally would on windows. It might smell slightly "vinegar-like" for a short duration but this resolves quickly and leaves you with a streak free shine!
All Purpose Cleaner
Ingredients:
1 cup water
1/3 cup vinegar
3 drops of tea tree oil
1-2 drop lavender pure essential oil
Spray bottle
You might not have tea tree oil or lavender essential oil in your home, but a little really does go a long way and using your all-purpose cleaner will be therapeutic with the lavender essential oil! You can add some eco-friendly liquid dishwashing detergent if you want extra grime fighting power.
Mold Buster
Ingredients:
Black mold is unattractive and poses a hazard to your health including causing increased asthma episodes, respiratory infections, sinus congestion, and allergic reactions (source: Wikipedia). Vinegar is natural and non-toxic but best to wear gloves when using vinegar in an undiluted way to prevent skin irritation.
Simply apply vinegar to mold and scrub away with a scrub brush.
Wood Polish
Ingredients:
1 tsp olive oil
½ cup vinegar
Mix these ingredients in a glass jar (preferably one with a solid screw top) and use a microfiber cloth (or what you usually use to polish your wood) to polish your wood. Store remaining home made wood polish in the glass jar.
Oven Cleaner
Ingredients:
This is one very simple recipe that most people already know about or have heard about because it is so simple and easy. Sure beats exposure yourself to corrosive sodium hydroxide or caustic soda all the time from conventional oven cleaners! Not only does lye cause corrosive action to the skin, it can irritate your eyes, and cause extreme damage to your gastrointestinal tract if swallowed (Safer Solutions). Traditional oven cleaner is something you DO NOT want lying around in your home if you have young children.
Traditional cleaning products over time can cause skin and eye irritation for humans and can disrupt wildlife by disturbing their hormonal systems (source: Environmental Protection Agency).
Eco-friendly products at the grocery store are great, but can be costly, not to mention the packaging and plastic that these products inevitably come with.
Bargainmoosers, do you have some great eco-friendly DIY cleaning product recipes you swear by?
(Image Credit: go_greener_oz)