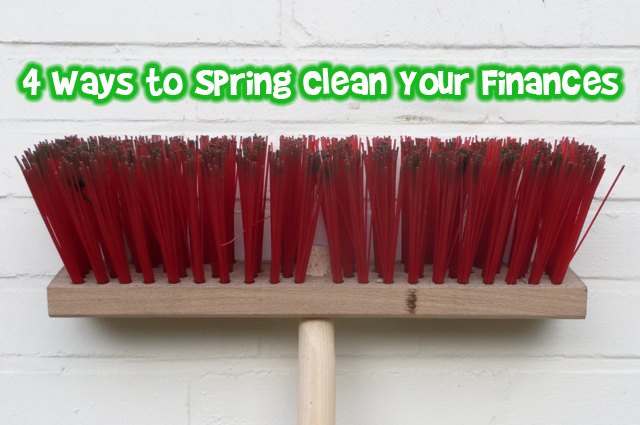 We all made resolutions after New Year's to be more organized, to be better savers, and to get our taxes done on time, but how many of us have actually put these promises in motion? Luckily with a new season comes a new opportunity to make those resolutions a reality. By abiding by these 4 tips on how to spring clean your finances, you'll be able to get back on track to having a great financial year, plus feel satisfied in knowing that this year you won't be included in the percentage of people whose resolutions have once again fallen by the wayside.
1.) Start Saving Automatically
Do you dream of one day owning your own home or traveling around the world after you retire? Well, hiding a bunch of dollar bills under your mattress sure isn't the way to do it. If you want to save up for a down payment or have ample amounts of money for flights, cruises, and African safaris, you need to set up an automatic savings plan and do it now. It's how I've been able to meet my savings goals for the past several of years, and it's as easy to set up as clicking a button on your bank's website. My plan is set up so that every paycheque a sum of money is directly deposited into my RRSP (retirement fund), my TFSA (my down payment fund), and my high-interest savings account (my travel fund). Not only is it one less thing for me to worry about, but it's also a great way to benefit from dollar-cost averaging.
2.) Get Fit for Your Finances
Implementing a regular workout regime into your daily life is never easy, but would it make a difference if you knew it affected your finances too? For instance, by leading a healthy lifestyle through eating right and exercising routinely, you'll be able to help prevent yourself from getting sick and thus taking time off work. You'll also be able to lower your risk of developing heart disease, stroke, and diabetes, which can be quite expensive when you look at all the prescription and medical costs associated with them. Moreover, you'll also be able to decrease your food bill by eliminating pricey sugary and fatty snacks and fast food from your diet.
3.) Revise Your Bills for the Best Rates
Some bills like electricity or hot water for your home unfortunately have fixed rates, but when it comes to your phone, cable, and Internet bills, spring is the best time to try and get a better deal. It was this time last year that I decided to see if I could get my cable and Internet lowered to a better rate. After negotiating with my provider for a bit, I realized that the best course of action was to eliminate my cable entirely and pocket the extra $70 a month. It's been over a year since I've had TV and I haven't missed it one bit.
4.) Finish Your Taxes & Have Fun
I may be one of the very few people in the world who actually likes doing my taxes every year. What I do to make it fun is to look at it less as a chore and more like a game to see how much of a refund I can get back. Each year I make a folder for the next tax year and save as many receipts as I can from donations, public transportation passes, investments, and business costs to use for tax deductions.  When it's time to file my taxes, I've got everything already organized in one folder and just need to either hand everything to my accountant or type all the information into an online tax program. It's always such a thrill to see how much income I made that year and how much I'll be getting back from the government. If that still doesn't sound that fun to you, then why not reward yourself with a nice glass of wine and piece of cake once you're all done?
Bargainmoosers, what do you do to spring clean your finances? 
(Image credit: geslnek)