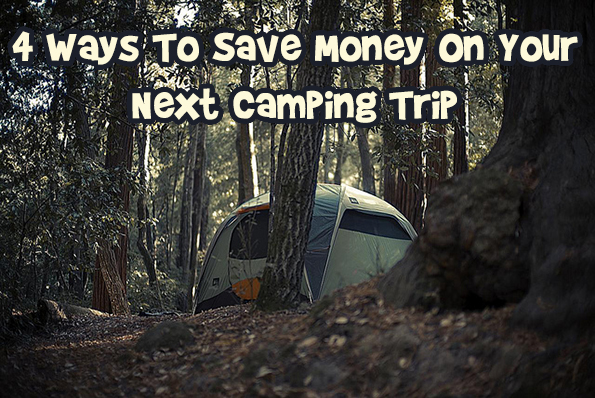 Summer is undoubtedly here, and so is the warm weather.  Summer is my absolute favourite time of the year because it is the best time for camping.
Camping can be relatively cheap, and camping can be expensive, depending on the type of camping that you do.  For example, if you take a trip to Mountain Equipment Co-Op, you will spend a pretty penny there, guaranteed.  The freeze dried meals are convenient because you can just add water, but at $7 to $9 for a package of two, it can really add up.  So if you aren't too concerned about the weight of  your backpack (if you are going wilderness/ backpack camping instead of car camping) then you will definitely save some money with alternate food options.
Although camping is considered a frugal vacation in comparison to other trips like flying to Mexico or going to Europe, there are still ways to save money when you go camping. Here are four ways that you can save money on your next camping trip:
Buy Used
One of the best ways to save money when you go camping is to buy your gear used.  MSN Money also shares the same sentiment in this article.  The most expensive aspect of camping is often the gear.  The tent, the tarp, the stove, the sleeping bags, and the sleeping pad can all add up.
Search out Craigslist for some great deals, check out garage sales, and go to your local used sporting goods store.  There are some great deals to be had at sporting good stores where people place their items on consignment.  I bought an entire set of camping cooking gear through the local sporting goods consignment store and was very happy with it.
Borrow Gear if You Can
Of course, if you're just trying out camping and you're not sure if you should be invested in it (and if you should invest your family's precious time in it) borrow some of the camping gear from your family or friends.  Most people barely use their camping paraphernalia regularly and are happy to share some of their gear to increase the use.  Just make sure you return it clean and in a timely manner.
Make your Own Ice Pack
A great tip form the One Hundred Dollars a Month blog is to save money by not having to buy the ice bags.  They get messy, water leaks all over the place, and your bacon in the cooler ends up getting soaked because of the ice bags leaking.  Instead, she suggests getting a milk jug, filling it with water to three quarters of the way up, and leave the caps off when freezing it.  This saves you from having to spend $6-$10 (money is still money!) buying ice in a plastic bag.  It also saves you from having to deal with the watery mess of bacon water that you'll have to get rid from your cooler.  Why not reduce, re-use, and recycle where you can?
Meal Plan
Just like it is helpful to meal plan when you're not camping and busy living the day-to-day grind, it is helpful to meal plan for your next camping trip.  Think about the meals (breakfast, lunch, dinner) and the snacks that you will need to plan for.  Things usually taste better when you're camping because everyone is relaxed and just focused on camping and cooking and eating, so don't worry about bringing expensive steaks for your camping trip (unless of course it's a gourmet camping trip).
If you're backpacking camping, save money by bringing meals like bagels and cheese or peanut butter.  These keep well for a few days.  For breakfast, the separately packaged oatmeal is a great idea and easy to make (just add water and some of your favourite trail mix).
In addition, book well ahead of time for the provincial and federal parks.  Most of these allow online bookings nowadays.  If you are going to the United States for camping and decide to go the private campground route, the KOA's (which I personally call luxury camping because some KOA's provide you with ready-made breakfast for a fee) offer discounts if you become a member or if you frequent the KOA's often.
Bargainmoosers, do you have any other ways where you save money while camping?
(banner image credit: Christopher Michel)