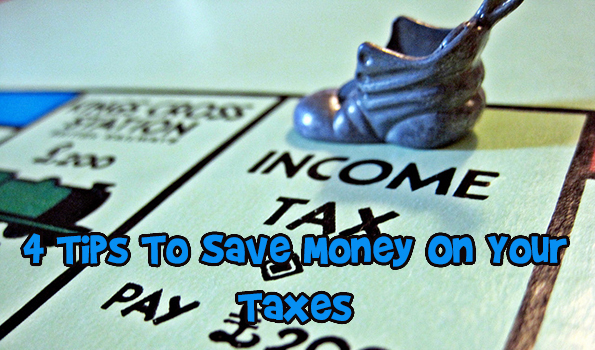 According to the book the Millionaire Next Door, one of the highest expenditures that we will pay on an annual basis is our taxes.  If the average Canadian family earning almost $75,000 in household income pays $31,600 in taxes (income taxes, sales taxes, property taxes included), that's almost 42% of the entire gross income.
Therefore, it makes great sense to try and save money on your taxes if possible, since it is the most money you will spend on anything (even your mortgage!), especially in Canada where the taxation rates are high.  That being said, our taxes give us a lot in return such as free elementary and high school education, free health care (for the most part), and free social benefits if needed.
Here are four tips to save money on your taxes:
Maximize the RRSP
These tools from the government are great ways to save money on taxes.  If your annual income is high, the RRSP is a great tool because it reduces the taxes that you will need to pay. Investopedia has a great article detailing the benefits of an RRSP.
If however, you are expected to make more money in future years, you may wish to hold that deduction until future years, when your income is higher and thus the income tax is higher.  This way, you will get more bang for your buck in terms of tax deductions and tax savings.
Maximize your Medical Expenses and Charitable Contributions
In addition to charitable donations and medical expenses, remember to claim for child care expenses, tuition and textbooks, and interest paid on student loans.  Also, interest used for investment purposes is deductible as well.  More examples are on Yahoo.
The key is to keep all of these records in one place so that you can easily access them.  It is also important to keep a record of your charitable contributions.  That way, if you donated more this year but haven't reached the threshold of $200 where it would move into the higher tax deduction bracket, you might as well save your charitable donations for future years, when you can get more tax lowering power when you combine the charitable contributions.
Think About T1213
People get very excited about tax returns and when they receive that cheque in the mail, they often go ahead and spend the money that they got refunded from the government instead of saving it.  The government has a form that you can fill out, called the T1213 form, that organizes it so that instead of getting a large tax return in the middle of the year, you get less tax deducted from your pay cheque.  All you need to do is fill the form out (to get the basic deductions, like if you have a child etc) and give it to your human resources department at work.  More information about this form is on the CRA website.
Some people still like to have the large tax return whereas some people are happier with less tax because that means more money to save or invest.  That being said, if you have will power to not inflate your lifestyle and budget, then having less tax deducted may be a good option.
Do your Own Taxes
Some people swear that they can save money by doing their own taxes and not having to pay $100 to an accountant (or even worse, to someone from H&R Block who took a course in preparing taxes but has no accounting background whatsoever). Initially I handed my taxes over to an accountant and afterwards, I decided to do my own taxes. I like doing my own taxes because it gives me some control as to how my finances are, etc.
Bargainmoose often has great giveaways and coupon codes for tax software like Intuit Quickbooks if you decide to do your own taxes.  If you're still unsure whether you should jump on the "I do my own taxes" bandwagon, read the article from the Globe and Mail about doing your own taxes.
If you're looking for more ways to save on your taxes, be sure to check out this earlier post on tax tips to remember before year end.
Bargainmoosers, how do you save money on your taxes?  Do you do your own taxes?
(banner image credit: Images_Of_Money)