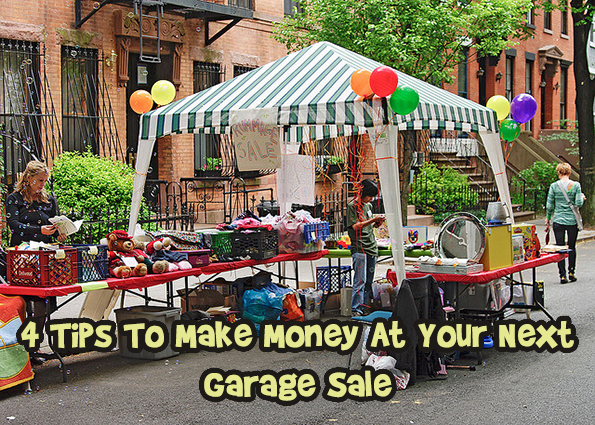 One person's trash is another person's treasure, right?
I have always wanted to throw a garage sale but never had enough "guts" to do so.  I was wary that people would not be interested in buying my items or would haggle me down to the bone and I would take it personally.  Recently, I bit the bullet and went ahead arranging a garage sale because I was taken under the wings of a friend who was experienced in garage sales.
Here are some of the tips I learned on how to make good money at your next garage sale.  We made about $800 between the two of us (with some volunteer help of course) over a period of seven hours, including set up and take down of equipment and items.
Advertise it Well
One of the most important tips is to advertise your garage sale well.  One of the more effective things we did was advertise on Craigslist.  We also put up over twenty signs near by at larger intersections indicating that there was a garage sale close by.  In addition, we advertised on Facebook.
Most people came by through the ad on Craigslist.  I posted about the garage sale about a week before the actual garage sale, and posted again the night before.  In addition, as I had pictures available, I updated the post with pictures, which helped it go up to the top of the Craigslist/ garage sale ads.
Enlist Help
A garage sale takes a lot of work!  Enlist the help of your family, friends, or neighbours to help you carry heavy items and set up.  Reward them for their efforts with a cut of the profits or with pizza lunch.  Most people are happy to help out and want to have a sense of community and giving.
In addition, if you have any friends who are desperate to get rid of their junk and don't care about money back for them, ask them to donate their items so you have more items for your garage sale.
Price it Right
We found that the things that were priced "right" were the best sellers: $2 for books, $2 for DVD's, and $10 for video games were some of the best sellers.  In addition, we sold clothing items for $3 (any type of clothing).
When you bundle the prices, for example, $3 per item of clothing or two items for $5, people are encouraged to buy more.  We found that bundling worked well and encouraged the items to go.
Also, some people are really interested in getting a good bargain.  For items that you might not sell so easily, consider just lowering the price so you can get a win-win situation.  Better than holding onto that item for another year, right?
For children, we gave some allowances and allowed them to take a stuffed animal for free.  It's only $1-2 and you get to see a child smile! :)
Organize It Well
Another important tip is to ensure that your garage sale is well laid out.  No one likes clutter (even though you are trying to get rid of your clutter, understandably) and if you arrange the items at your garage sale well, people will be more encouraged to buy and stick around.  Having your garage sale organized cannot be overstated enough.
Here are some ideas on how you can lay out your garage sale in specific sections:
clothing (have a clothing rack so people can browse easily)
shoes (laid out on shoe rack)
electronics (laid out on a table)
kitchen stuff (e.g. dishes, wine glasses, mugs) (laid out on a table)
books, DVD's, games (laid out in a specific area/ box)
furniture
art
$1 bin (for any knick knacks)
$2 bin (for more expensive knick knacks)
There we go, hopefully these tips are helpful for your next garage sale!  It seems daunting to arrange a garage sale but it's actually very easy and rewarding.
If you want more tips, here are 9 ways to throw a successful garage sale from Canadian Living and more tips on how to throw a successful garage sale from MSN Money.
Good luck!
Bargainmoosers, do you have any garage sale success stories or lessons to share?
(banner image credit: Dan Daluca)