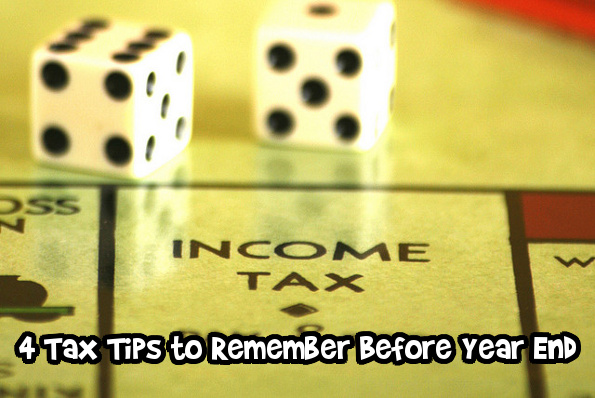 They say there are two certainties in life: death and taxes. With the autumn leaves and Christmas decorations and advertisements in October, it reminds us that it's that time of year again, when we need to start thinking about our taxes and wrapping things up to ensure that everything is set for the 2012 Income Tax year. As much as we don't like to think about our taxes, it's important to ensure that everything is set for you to take advantage of tax credits whenever possible. Saving money on your taxes means more money that you can invest, save for your retirement, or save for your rainy day fund.
Here are four tax tips to remember to do before 2012 ends:
Donate to Charities before 2012 Ends:
If you already have some donations for 2012 and would like to donate more in order to hit the second level of tax credit for income tax donations, make sure you do so before December 31st. If you donate more than $200 (e.g. $300), the $200 gives you a lower tax credit and the $100 on top of the $200 tier gives you a higher tax credit. A great Canadian resource called Taxtips.ca gives you the chart for the 2012 donation tax credit rates (it varies according to Province). For example, if you donated less than $200 in Ontario, you would receive a 5% tax credit on the $200 you donated, and if you donated more than $200, you would receive a 14.70% tax credit.
It's important to remember that $200 of donations just might not cut it (at a 5% tax credit it doesn't make much sense), but if you want to roll over your donations, you are able to carry them forward for up to five years. This might make your next tax credit more substantial.
Sell Your Losers
If you have a loser stock sticking out like sore thumb in your portfolio, it might be a good idea to sell it (so you don't have to think about it anymore, and it doesn't remind you incessantly about your poor stock-picking or financial decision making) before year ends to offset any capital gains in the previous year. Many individuals clean up their investment portfolios near year-end and sell off losers that they don't see bouncing back up any time soon. You'll be able to get money back from any capital gains taxes you paid in previous years. This strategy is called Tax Loss Selling.
One important thing to remember is that you need to sell your losses on the last trading day, which is usually a few days before December 25, and not December 31 like one would normally think.
Gather Up your Receipts and Records
Investopedia suggests that it might be a good idea to do a preliminary calculation of your receipts and records to see just how much you might owe (or might get) from the Canada Revenue Agency. This way, you'll be able to take advantage of tax minimization strategies in order to get a bigger refund or pay less to the taxman.
I usually have a plastic folder that I jam all my important receipts or charitable donations into so that come tax time, I have a place where I can easily access my data. I still haven't gotten around to doing a rough calculation of the taxes I might have to pay this year, but writing this post was a good reminder!
Make Purchases for your Business
If you own a business, it's a good idea to make large purchases that you need to use for your business (like office equipment such as printers, computers, and desks) so that you can use the claim capital cost allowance (claiming the cost of depreciation of the item on an annual basis) for the 2012 year.
Although these tax minimization strategies may not be the quickest and easiest thing to do, they are important as they can save you a lot of money in the long run come tax time. That way, you'll avoid the gnawing pit in your stomach in March 2013 knowing that you could have went down a tax bracket if you donated more to charity.
Bargainmoosers, do you have other year-end tax "to-do's" that you usually do?
Photo Credit (Alan Cleaver)