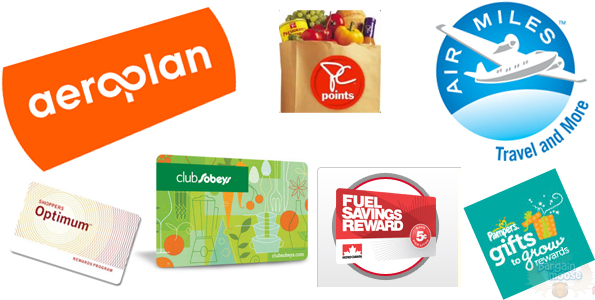 Although it is pretty cool (and self-gratifying) to be collecting thousands and thousands of reward points for that ultimate trip or ultimate reward… there are a few reasons why you should use your points sooner rather than later.
Reason 1: Points Inflation:
What the heck is "points inflation," you ask?
Points inflation is the unfortunate increase of the number of points you need to buy something through an card reward program.
Points inflation likely rises at a higher rate than regular economy inflation and will affect you more obviously than regular inflation affects you.
One notable reward programs that consistently increase their points includes Air Miles. Just a little over a year ago, to exchange for a $50 gift card to Rona, it cost me 325 reward miles (something around that number, my memory is a bit fuzzy). Now, to acquire the same $50 gift card, it costs you a whopping 475 reward miles.
It's not just Rona gift cards that it affected. It also affected The Keg steakhouse gift cards, Shell gift cards, and Hudson Bay Company gift cards.
It makes sense to not delay if you want to buy that gift card or gift certificate since these don't expire and the Canadian government passed a rule to not allow for the depreciation of unused gift cards.
Another example is the Shoppers Drug Mart Optimum points. They recently (a little over a year ago?) changed their points redemption rules where you need to spend more points to achieve the same amount of "$ off" that you would normally get with the same number of points. Nonetheless, the optimum points program is still an awesome program.
Reason 2: Rewards Points Rule Changes
Rewards points rules change all the time, unfortunately. A "newsmaker" rules change affected thousands and thousands of Aeroplan points holder (for better or worse).
Instead of points expiring after a 7-year period of unused (meaning no addition or subtraction of points) rewards points, Aeroplan recently made some changes whereby if you did not use your points at all for a 12 month period, you will lose all your points.
Yes, this meant that even the 394,202 points you may have painstakingly built up because you were waiting to go on that around the world trip would have been lost… just because you didn't have any activity on Aeroplan for 12 months.
In order to avoid this, many Aeroplan points holders use Esso for gas and collect points in the meantime. This prevents the 12 months of points un-use. In addition, Aeroplan points also suffered from points inflation as well, as there are some changes to Aeroplan rewards redemption as of 2011.
Reason 3: Companies go out of business
In this volatile economy, companies come and go. Just look at Linens and Things (though not sure if they had a points program!). One prime Canadian example from many years back (not sure if you remember) are the Club Z points. Although Hudson Bay Company took over Zellers and the Club Z points turned into HBC points, now many Zellers stores are being transitioned into Target stores in Canada. Target is not owned by the Hudson Bay Company.
For those who had been collecting Club Z points for millennia, it makes sense to spend your points on something you've wanted sooner rather than later.
Always Uncertainty but you Can Still Take Action
Unfortunately there is always uncertainty as to what might happen with your points. Our points are at the mercy of the businesses that run them. There are a few things that you can do to prevent being severely affected by points inflation, rewards program rule changes, or when companies and their rewards points programs go out of business.
Pay attention: Before chucking out that junk mail from your rewards points program, take the time to read it because there might be an important message. For example, when Aeroplan instituted their changes, they gave it a year before the changes were actually made. This gave people the chance to make transactions to avoid losing their Aeroplan points.
Also, the Shoppers Optimum points made an announcement as well and gave consumers a few months to redeem their points before they changed it over.
Collect the Points Easily in the First Place: Collecting the points easily in the first place can make the negative effects of points inflation not so painful. For example, instead of getting 1 Air Mile every $20 you spend at Safeway, only shop at Safeway on their Air Miles promotion days or buy those products (only if you need them anyway) during the 50 or 100 Air Miles promotions. This will make points inflation less painful because it wasn't so painful to collect those points in the first place.
Use Your Points: Again, using your points sooner than later (especially if you know what you want and you have enough points for it) is a good idea just because of the unpredictability of points rewards programs. This may especially be the case for Air Miles rewards programs since they don't ever seem to announce that they are changing things up.
Conclusion
In summary, points inflation, companies going out of business and rule changes suck, and there's very little you can do as a dedicated points collector to avoid these changes. However there are few things you can do to lessen the blow and these are to pay attention, collect the points easily in the first place, and use your points sooner rather than later.
Bargainmoosers, how do you combat against points inflation?