Free Father's Day Printable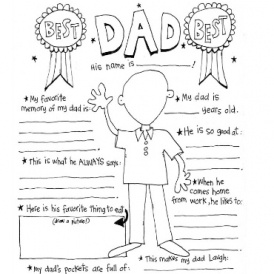 I've just printed this super adorable Father's Day Printable for my son to fill out and colour - how perfect is this?! Just turn on your printer and click "print" via the link below. Then the kids can answer the questions and colour in the image to look like their dad.
You will laugh at the answers your kids come up with for some of these questions. Apparently my hubby is 5 years old, and my son's favourite memory of him is his work truck.
How would your kiddos answer some of these questions?
Thank you Skip To My Lou for this beautiful printable!