Say Hello to Purdy's Easter Chocolate Collection!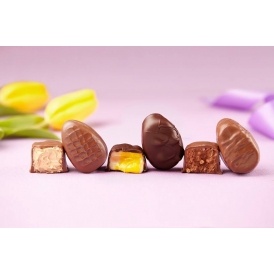 Easter is coming! With Easter comes adorable chocolates for you and the kids to enjoy. I always search out Easter goodies that are not only delicious, but also adorable. Purdy's Chocolatier is the place to go for holiday chocolates like this. They have launched their Easter Collection with prices starting at just $2! I am already drooling allover my keyboard.
So if you are also on the hunt for some Easter chocolates that are good quality, tasty and cute to look at then these yummy choices from Purdys.com fit the bill:
The Spring Eggs are totally adorable and just scream Easter. They are a delicious solid chocolate and are available in milk, white or dark chocolate. While the price may seem steep for just a single chocolate egg, you will want to keep the size and quality in mind when adding this treat to your shopping cart. They are $3 each, and are available to order now.
The Easter Hedgehog are also pretty cute to look at if I do say so myself - and equally delicious. For $17 you will get 10 pieces of beautifully wrapped hedgehog chocolate to give as an Easter gift or even just enjoy yourself. You can also get the mini version - which is $13 for a box of 10. But who wants to down-size chocolate? Wait until you taste the hazelnut filling that the website seems to go on about. I honestly don't know if these will survive until Easter - I might eat them before hand. I also just noticed the warning on these chocolates. Am I the only one who would still eat the entire box? Here's the warning:
Please note that excess consumption may have a laxative effect.
There are all sorts of Easter chocolate treats. From bags of Jelly Beans to full out chocolate bunnies. Prices range from $2 to $28.50, so go ahead and pick your poison. I even quite like some of the new options, though I will probably stick to my all time favourites to be honest.
Shipping is a flat rate of $10 within Canada, so stock up and make your purchase worth it. These choccies have to be my all-time favourite and I know that I definitely need super strong willpower to not add these treats to my shopping cart for myself to enjoy. In the back of my mind I have to keep thinking: "These are for the kids. For the kids. KIDS!!!". But I don't know if it is going to work!
(Expiry: Unknown)