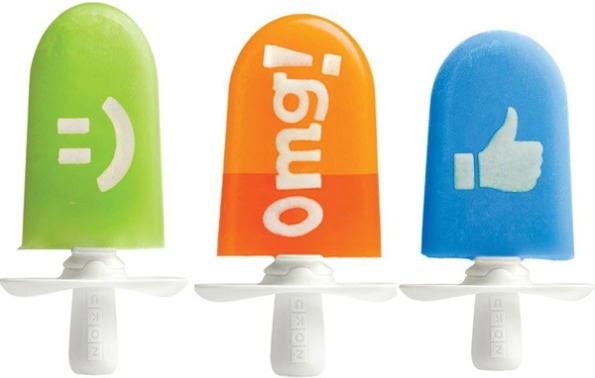 Okay, I might be the only crazy one who eats ice cream and popsicles during the winter, but this Zoku Social Pops Kit is too adorable to pass up. The Zoku Social Pops Kit was originally $19.98, but right now you can call it yours for just $5. Spend $29 to get free shipping.
Do you talk ice cream? Now you do. The Zoku Social Pops Kit will let you send a message with a delicious treat attached. Make popsicles unique with over 26 letters, 10 digits and 14 different symbols. You can make tons of different unique messages on your ice cream pops, and you really won't complain for just $5. Though you will need to also purchase the Zoku Quick Pop Maker which is sold separately and will cost you $69.98 from Well.ca. You could also get the Zoku Single Quick Pop Maker for just $39.95 over at Chapters.Indigo.ca.
So here is what the Zoku Social Pops Kit includes:
49 social media stencils
1 pusher
1 face plate
1 stand
26 letters
10 numbers
14 symbols
instruction manual
So you can imprint things like "xoxo" or "LOL" on your popsicle no problem. I would put thins like "I <3 You" on the popsicles for my kiddos. You could even write random chores on them, so if your child wants to enjoy a popsicle then they have to complete the chore written on the delicious cold treat. Zoku pop makers are even designed to help you create totally healthy popsicles, so you won't feel bad about your entire family enjoying them anyway.
You can make your Zoku Quick Pops even more delicious with this Zoku Quick Pop Chocolate Station from Well.ca too. This station was originally $24.98 but right now you can snag it for just $6. If any of my family or friends are reading this, I wouldn't be upset if you got me the Zoku Quick Pop Maker and accessories for Christmas! The chocolate station comes with everything you need to coat your ice cream pops in delicious chocolate. It even comes with a recipe booklet to make different shells. Yum, get in my belly!!
When it comes to shipping. Well.ca requires that you spend $29 to get totally free shipping. Your best bet is to take advantage of their sale section and see if you can snag any other Christmas gifts while you're at it. Otherwise your shipping charges may cost more than this actual Zoku Social Pops Kit itself.
(Expiry: Unknown)