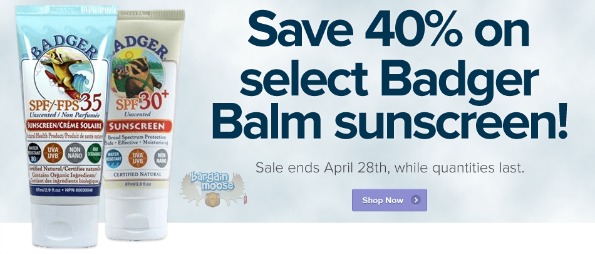 Well.ca has 40% off of Badger Balm sunscreen. This is an amazing deal and not to be missed, because this sunscreen is one of the least toxic sunscreens on the market. Don't believe me? Check for yourself in the Skin Deep database.
I am so leary of sunscreens because of their nano-particles, which penetrate the skin and more. I want to protect against skin cancer, but not get other types of cancer in the process. So, when I find something that protects against the sun's harmful rays but is as natural as this, I do a celebratory dance.
Not only made from pure, natural, certified organic ingredients like herbal extracts, essential oils and extra-virgin oils, with no chemicals or synthetics, Badger is a family run business.
Check out the lightly scented sunscreen, with 30 SPF and safe for children of all ages. Get it for only $11.99, regularly $19.99.
The sport unscented sunscreen is waterproof for 80 minutes, so it is great for the days by the pool. Also $11.99, regularly $19.99.
The baby sunscreen is meant for babies about six months old and is also $11.99, regularly $19.99.
Shipping is free on orders over $25, and this includes anything you buy on Well.ca.
(Expiry: 28th April 2013)