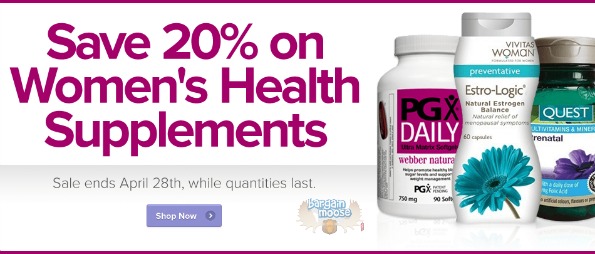 Well.ca is offering 20% off women's health supplements right now. If you currently take a supplement or are thinking of starting one, now is the time.
I currently take a few supplements to increase my health and well-being. I think we can get most of our nutrition from food, but sometimes we need an extra kick, especially as we get older.
I only wish I had known about these B-Natal Therapops for morning sickness. I had awful morning sickness that lasted until my eighth month of pregnancy with my third child. Luckily it happened with him and not the first or I may not have gone through all of that again! Either way, these suckers for nausea made with B6 are said to help pregnant women get over that queasy stage. Get them for $15.99, regularly $19.99.
If you are pregnant, taking a multivitamin with folic acid is extremely important. Check out this one from Vivitas Woman Mom To Be, now only $17.59, regularly $21.99.
If you are long past the pregnancy stage and menopause is on your plate, try these At Last Naturals meno-herbs, to support and comfort the imbalance caused by menopause. Now only $13.99, regularly $17.49.
Shipping is free on orders over $25.
(Expiry: 28th April 2013)