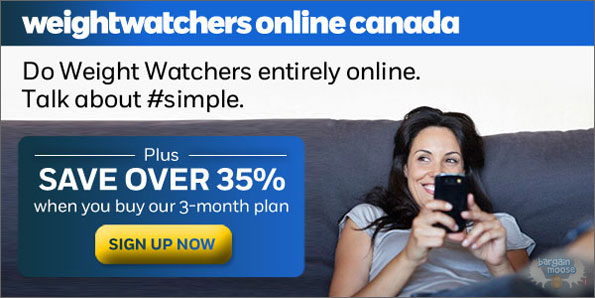 If your new year's resolution coming into 2014 was to lose weight, then it's not too late. In fact, it's never too late to start making the right choices and taking better care of yourself! Plus, if you give Weight Watchers a try now, you can save more than 35% on a 3-month savings plan online!
A standard monthly plan actually comes up to $61.90 but for a limited time, you can get the 3-month savings plan for just $3.95 more overall, at just $65.85. If you ask me, that's really quite awesome since per month, it comes down to being just $21.95.
Plus, Weight Watchers is different from other weight loss programs in that rather than being based on not eating, it focuses instead on teaching you how to eat better with countless delicious recipe ideas,  tips and much more. If the thought of exercise has been pushing you to turn the other way with regards to dieting, then keep in mind that while it can certainly speed up your weight loss goals significantly, it isn't even totally necessary as long as you make the right choices with regards to food.
In fact, if you read Heather's article on "How To Lose Weight On The Cheap" back in October, then you would have undoubtedly seen that on top of other strategies, she also included Weight Watchers as a great online tool for weight loss.
Have you ever tried Weight Watchers or have you been meaning to?
(Expiry: Unknown)