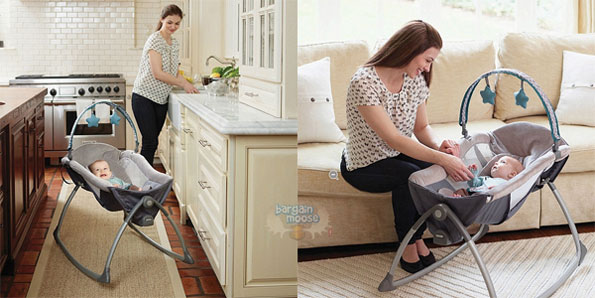 Walmart has the Graco Little Lounger rocking seat and vibrating lounge on rollback for just $79.94 at Walmart right now, which is a $45 reduction from its original price of $124.97.
For some reason, Walmart has categorized this rocking seat under "swings" even though it really isn't one! It more closely resembles a rocking bassinet, especially since baby can either sleep in it or the seat can be reclined slightly upwards for the baby to have a better view of his or her surroundings. When my baby was first born, I quickly hurried over to my nearest Toys R Us to get a bassinet for the living room, but in hindsight, I wish I would have gotten this product instead because it may be reclined, can rock baby side to side and also vibrates. Plus, the vibration mode even has two speeds!
The 3-point harness helps keep baby in place but even without it, I'm sure any baby would be fine. Keep in mind that it's suitable for babies as young a newly born, all the way up to 6 months. It also features a stationary mobile over top with two blue stars to keep baby entertained.
The best part is that it can be easily folded at the push of a button for easy storage. The bassinet I have is pretty old-fashioned and I have to admit that it has been a real pain to manoeuvre it around, especially when friends and family come over.
There are only two reviews but both of these are super positive with a rating of 5 stars out of 5. In fact, here's what one of them had to say about this rocking seat:
There are two vibrating modes and the stronger one is what keeps my baby cooing and happy! I also like the recline options, so baby can go from laying down to sitting reclined and getting a view of things. It's a great product all around and stores easily.
This is also by far the best deal you can get on this rocking seat. Even its regular price is more expensive at Toys R Us: $129.99, and Amazonhas it for $139.
As always, shipping is also absolutely free at Walmart. All you need to do is order it and wait for it to arrive without worrying about lugging it around back from the store!