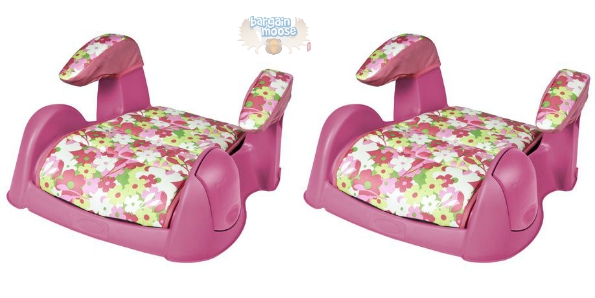 Walmart Canada has discounted the Cosco Auto Booster in pink with a garden design from $24.86 down to $18. While they no longer offer free shipping to your home on such orders, you can still get free shipping to your local Canada post location. As I end up picking up all my orders there anyway, it still feels like free shipping
This backless booster seat is designed for children 40-100 lbs. It is designed to place the child in a better position for using the seatbelt in your vehicle. There armrests and seat are padded for comfort and that padding is in the garden design: floral. The Seat pad is removable and can be washed as well in case there are any accidental spills. Speaking of preventing spills, the flip-down compartment will hold a juice box or cup so your child will not get thirsty while on a day trip.
Price comparisons were relatively easy. First, this Cosco auto booster seat is only $18 online. In store, the booster seat still retails for $24.86. In addition, Walmart Canada currently stocks two other Cosco auto booster seats with different designs. One was also discounted to $18 and is now sold out. The other is still at regular price: $24.87. I also found a Cosco backless auto booster at Toys R Us for $24.99. Given these prices from both Walmart and Toys R Us, I figured this was a deal worth blogging about.
This seat really has everything you need for one small price. As one happy parent said:
I bought this a week ago for my 8 yo daughter. She loves it! Beautiful color, comfort to sit on and so light in weight. Worth the price!
Many reviewers say that the colour and garden design are popular with their little girls. The most popular features tend to be the design and how lightweight the unit is in comparison to others. This makes it easy to transfer the booster seat between vehicles. Overall, this booster seat almost has a 5/5 rating by people who have bought and now use the seat.
You can receive free shipping to your home on orders of $49+. However, I do recommend the free shipping to your local Canada post outlet for this item. I anticipate this will sell out quickly as the other one already has.
(Expiry: Unknown)