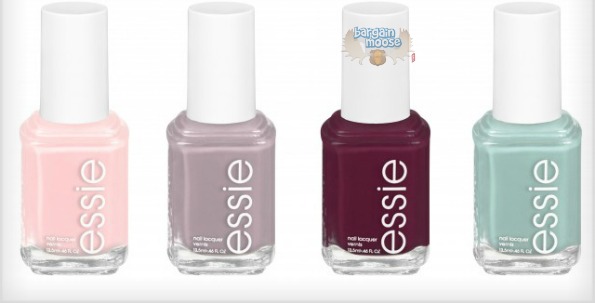 WagJag's got a great deal on right now that will delight the fashionista and the philanthropist in you. Buy four Essie nail polishes for $19 and get free shipping, which is a $48 value, and all of the proceeds will go to the Because I am a Girl initiative.
With this deal you'll get four Essie nail polishes with your choice out of 40 colours. You'll have to redeem the deal at HealthSnap and the deal will also include free shipping from them. You could also opt to pick up from your local pharmacy, but why would you if it gets shipped to your house free? Usually HealthSnap offers free shipping at $50, so this is a bonus with this deal.
Each nail polish sells for $9.99 on their site, so I'm assuming the extra $8 quoted in the $48 value is the shipping you are saving. Essentially then, you are getting two nail polishes and shipping free.
Shopping around, Walmart sells Essie for $8.96 a bottle. Nail Polish Canada sells them for $7.95 each, or a 4-pack of selected colours for $30. Well.ca sells them for $10 a bottle. As you can see, WagJag's deal is the best one, saving you about $16-20 over the competitor's prices.
With Mother's Day sort of coming up, this might be a gift you can get early, or you can obviously keep it all to yourself. Most women appreciate a gift of nail polish because I think a lot of us wear it. I don't wear it on my fingers but I do always wear it on my toes. It is my pet peeve not to have colour on my toes because I think the plain toenail look looks kind of sick.
I love that this deal also gives 100% of net proceeds to the Because I am a Girl initiative. Through Plan Canada, this donation helps girls go to school in developing countries. You might want to get a couple of these deals (two maximum), just to help out as much as you can.
Also note that HealthSnap will charge a $2 tax and processing fee at checkout after you enter your voucher.
(Expiry: 15th March 2015)