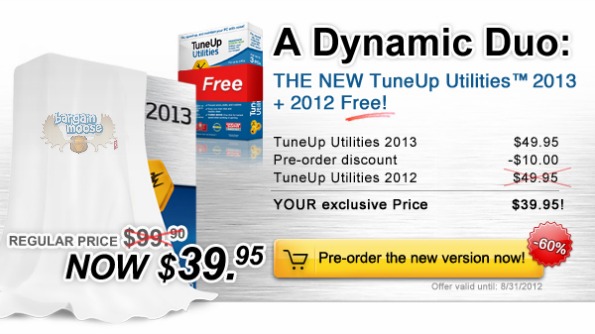 TuneUp is offering the new Utilities 2013 at a discounted price when you preorder plus your will receive the TuneUp Utilities 2012 absolutely free. Offer is valid until August 31st 2012.
I tried the 15 day free trial for the Tuneup Utilities 2012 and I was quite impressed, my computer ran at an incredible speed after the tune up. I have to confess, I have been waiting for a sale to purchase the program and this is it. Now I can enjoy the 2012 version for free, while waiting for the 2013 new version.
This program is awesome, it cleans up program residue, destroys Windows data trash and deletes browser traces. I can adjust this program to clean automatically or manually. Even with automatic, you can request confirmation of any action first. TuneUp 2013 is fully compatible with Windows XP, Windows Vista, Windows 7 and the new Windows 8.
The 2 new power tools with TuneUp 2013 are the TuneUp disk cleaner and the TuneUp browser cleaner. The disk cleaner keeps the HDD's and SSD's clean for a faster and more stable PC. The browser cleaner removes temporary internet files and traces by all popular browsers like Internet Explorer and Firefox.
Tuneup provides a 30-day money back guarantee and has customer support available as well.
Product is ordered online and downloaded and be sure to click Canadian dollars, (which is $45.54).
(Expires: 31st August 2012)