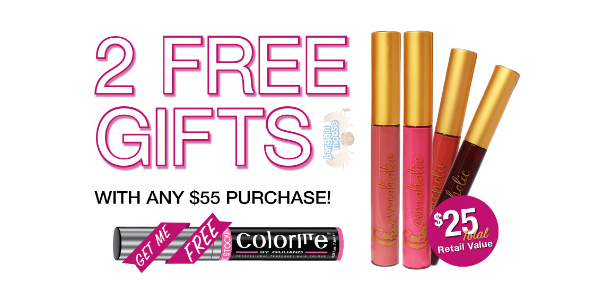 Trade Secrets is giving away two free gifts with purchases of $55 or more. All orders at Trade Secrets Canada also qualify for free shipping.
Trade Secrets is a great place to pick up cosmetics, lotions, personal appliances (hair curlers, bow driers) and more. Currently, they are offering two free gifts with a retail value of $25 (together), when you purchase $55 or more on their website. You will receive:
ColorMe (Pink Stocking) temporary hair colour
Cosmoholic (Promiscuous Pink) Liquid Lipstick
This combo will automatically be added to your cart - do not add it yourself. These freebies cannot be combined with other gifts on the website. I tried that and failed. This offer is while quantities last. If the gifts are still available when you place your order, then the gift pack will show up like this in your cart.

I picked out a couple items that equalled mere cents over the $55 minimum. First, I chose the Juice Beauty Organics To Clear Skin Kit. Juice Beauty is one of the medium to higher end organic beauty companies. They have created an entire kit designed to rid your skin of acne. I have longed offer this kit for a while, as I still have acne (I thought that was supposed to end once you were no longer a teenager). This kit costs $51.40 and includes:
Blemish Clearing Cleanser (120ml)
Green Apple Blemish Clearing Peel (7ml)
Blemish Clearing Serum (30ml)
Oil Free Moisturizer (30ml)
To top up my cart, I added the Mr Pumice Pumice Contour stick for $3.99. I am excited about Mr Pumice in all his pink goodness. Pumice stones are excellent for taking dry skin off your hands and feet. I like to soak my feet in an Epson salt bath (you can add vinegar to kill any fungus), and then use a pumice stone to remove the rough edges and dried bits. Pumice stones always work better on wet skin and your skin will give up it's dead better when wet.
The two freebies are cool. My favourite is the ColourMe temporary hair colour. You can see how it works in the video below. One tube should give you 15 to 20 streaks on medium length hair. This is perfect for your next party and will look fabulous with liquid lipstick.
(Expiry: Unknown)