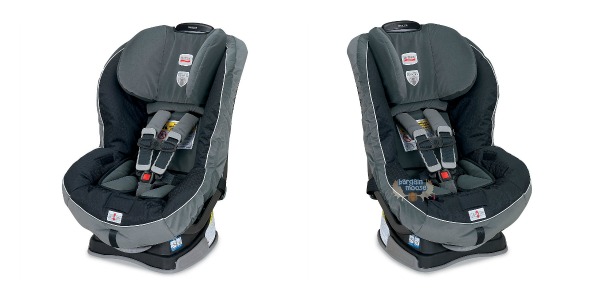 If you missed the deal I posted in May, where Toys R Us was having a one day sale with promo code, taking $100 off the Britax Pavilion car seat with Calgary fabric, well you again have the chance. Toys R Us now has this seat on sale, without the promo code, and without a known expiry date for $269.98, essentially taking $100 off.
As I mentioned in the above post, I have this exact car seat. I also mentioned how much I love it and how I spent quite a bit more money on it than $269! I have only had Britax car seats in my vehicles since my kids were little, mainly because they have amazing safety ratings. I have used other car seats in other people's cars and when I did, I realized how much more handier mine is. The straps are easy to get done up, tighten and keep kids buckled in. They don't really get all twisted like I've seen on other seats either. My husband also says they are very easy to install, which means you can go from car to car easily.
The reviewer on Toys R Us' website said the same things as me:
I love the user friendly features, like the velcro that holds the straps open. This feature is not as effective when the small padding is in the bottom, but once your child is bigger, and the padding is removed, it works perfectly. The Versa tether is easy to install forward facing, rear facing has been an issue for my car. The versa tether is meant to loop around your seat adjuster/ seat adjuster mount. Something that bolts to your floor anyways. The other option is to use the Australian method, which involves loosening the strap every time you put your child in or out. Since my mounts are not large enough for the Swiss method, I'm not stuck with this pain in the butt, which over comes the convenience of the velcro.
As for price comparison, I checked out Snuggle Bugz, which had this seat for $295.99 (on sale) and Shop.ca also has it for that price as well.
Shipping is going to be about $15 once you get the $20 off credit for shipping items over $25. You also might as well take advantage of getting a Sophie the Giraffe for $12 with any purchase over $100 of baby and infant toys and gear. I paid well over $20 for mine and I have to tell you, kids love Sophie!
(Expiry: Unknown)