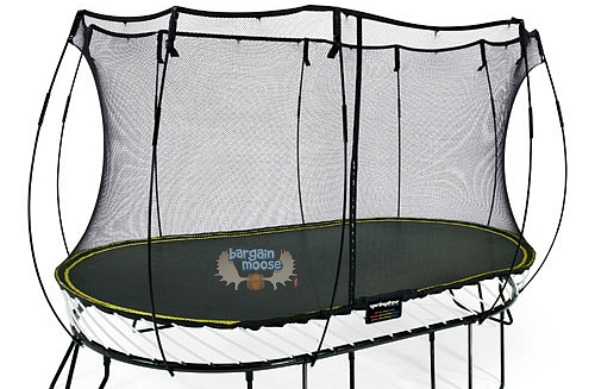 It's that time again. The time when you wonder what the kids are going to do outside all spring, summer and fall, because you know it is time for them to get out of the house and play outside. I have the perfect answer. Get them a trampoline. And get it for $200 off.
I bought my kids a trampoline last year even though I heard the usual "they'll play with it once" moaning and groaning from other people. But, those people were wrong and my kids played with their trampoline every single day and more. Their friends would come over just to play on it. My oldest even plays on it now in the winter, digging the snow off it and rolling around in the snow that he knows hasn't been soiled by my dog.
Springfree trampolines are said to be the safest of them all. With innovative technology including completely covered springs and a kick-butt enclosure, they say accidents don't happen on these trampolines. I could not spend the money I wanted to on my trampoline so we got a cheaper version, but I still pine for one of these.
There are four sizes available:
Shipping is going to be steep, but it might be worth it if you don't have a truck to haul this baby. Also, a few of the trampolines are only available online.
(Expiry: Unknown)