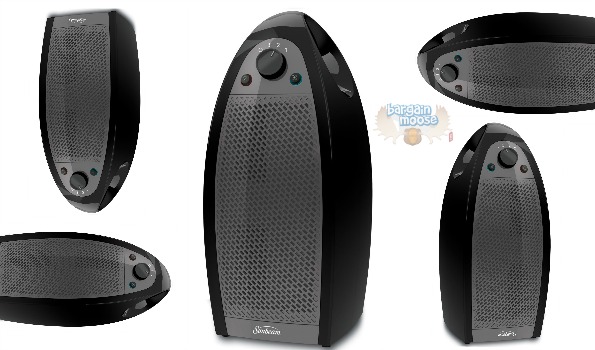 With spring flowers come springtime allergies. Make breathing a little easier with the Sunbeam Mini Tower Air Purifier which was $69.99 but is now only $40.99 @ Amazon.ca. This item qualifies for free super saver shipping too!
Air filters are an item I know well, as I have seasonal allergies to pollen and also allergies to dust. When the flowers start blooming, I start sneezing. While over the counter allergy relief products do help to keep the sniffles at bay, they get expensive plus who wants to be taking medication all the time? I find that by cleaning my house a little deeper and running an air cleaner, I am able to reduce the amount of allergy medication I need. I also do not like finding my bookshelf, TV and other furniture regularly covered in dust. A filter can help to reduce that dust.
This air purifier is a Sunbeam, which is a brand that holds its own in the air filter market. I have owned a Sunbeam in the past and it did the job well. This filter is a mini-size that is for small rooms up to 106 square feet. If you have trouble with allergies at work, this looks like it would be ideal to put on the edge of your desk. The machine also says it will remove 99% of contaminates in your space.
The filter has three settings, including a high setting with an extra-ionized boost. The first time you run a filter I recommend running it on high for a while before switching to low. I found any time I dusted it was a good idea to switch to high. I have also had success with a filter similar to this removing a damp smell from my basement after cleaning up a leak. Users are reporting that the two lower settings are quiet, but the highest setting is a little noisier.
I price shopped around a little bit, and here is what I found at the competitors for the same filter.
One reviewer on Walmart Canada seems to be having a positive experience with this filter.
This air purifier is great for the price. I bought it because we have a small child and was worried about the amount of dust in my apartment. Within a week, it has reduced the amount of dust by half at least.
With spring on the way, there will be more pollen and extra dust. I would grab this filter at this price now. This is the perfect size to use seasonally as it is not as large as the other giant filters. This Sunbeam is a special lightning deal today and will only be around as long as they have stock.
(Expiry: 20th March 2015)