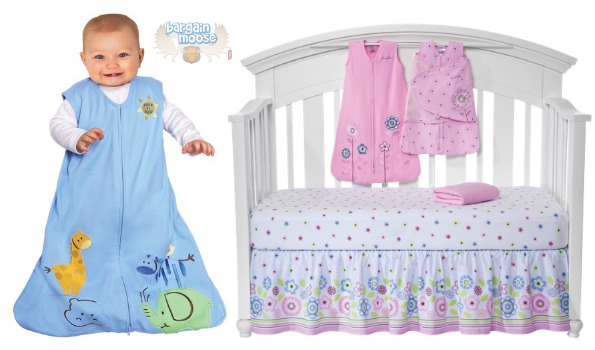 I have the perfect present for those soon-to-be new parents. The HALO Innovations SleepSack 5 Piece Crib Set Was $99.99 but is on sale today only for $39.99. This item will also meet the minimum for completely free shipping.
The rules on what babies and kids should and should not have are changing all the time. There are plenty of things to fret about as a parent. When should I introduce solid foods? Is my baby spending too much time on their back and not having enough tummy time? A lot has changed when it comes to your child's bed in the past twenty to thirty years. Help a new parent out and pick up this lovely HALO Innovations SleepSack set. This set includes:
SleepSack Swaddle for Newborns who are 6 to 12 lbs.
SleepSack Wearable Blanket for babies who are 10 to 18 lbs
A crib skirt
Two fitted sheets
You may notice this set has no bumpers or comforters on the crib. The cozy cotton sleep sacks will keep baby both comfortable and safe. These sleep sacks were handy when my little one was tiny. The sleep sack designed for newborns has velcro so you can swaddle your baby tightly without having to fight a receiving blanket that will not stay tucked in. Most newborns sleep better when swaddled. My husband, in his exhausted state, threatened to duct tape a blanket closed. Trust me you want that Velcro. The second zip up blanket will keep your kiddo comfortable when they are ready to stop swaddling. Two fitted sheets ensure that when the baby spits up in the middle of the night, you have a backup.
Price Comparison
This particular set is exclusive to Best Buy Canada, which makes it a little harder to compare. I compared the price of the two sleep sacks below at other retailers.
I found the Halo Sleep Sack Innovations Blanketfor $29.99 at Amazon Canada.  The  Halo Sleep Sack Innovations Swaddle blanket is$31.99. With just these two items, you are looking at a total of $61.98 at Amazon Canada and that does not include the two sheets and bed skirt.
Over at Toys R Us Canada, a similar HALO Sleepsack is available in cotton for $29.99. A Halo SleepSack Swaddle is currently available on sale for $22.47. That puts your total $52.46 before you purchase the sheets or the bed skirt.
Reviews
Reviews on this set are fantastic, scoring very high reviews from buyers. Here is one very happy review with more details.

This is a great deal and makes a great baby present. Pick up this soft cotton set now and you will have plenty of baby snuggles ahead. This product says if you order by 4pm you will receive this by May 15th. I would not wait, some of the Best Buy deals sell out quickly.
(Expiry: 14th May 2015)