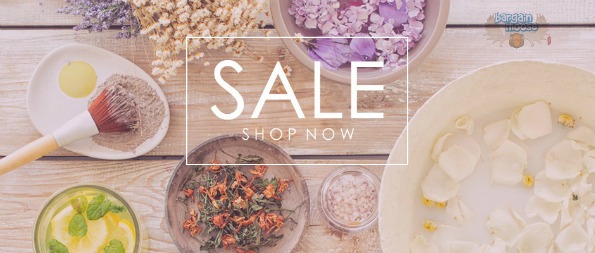 As some of you may know, I have about the most reactive skin you can get. Thus, I use all natural skin products, which are not exactly inexpensive. Right now three of my favourite natural cosmetic and beauty product boutiques are having sales you need to check out.
This company is easily my favourite among the natural beauty websites. Their customer service is fantastic, and they have a great selection of products. In their sale section, you should check out the miniOrganics Baby Basics Gift Bag that was $80 and now is $60.99. The set includes the Gentle Baby Bar ($12.50 value) Protective Diaper (Nappy) Balm ($29.95 value), Superfine Jojoba Oil ($49 value), and a cute tote. This makes a lovely baby shower gift. I am going to be switching to all natural perfume and this Roots Rose Radish - Cedarwood Myrrh & Clove Solid Perfume is on my list to try. Originally $55, it is now on sale for $41.99. Shipping is free on orders of $75.
The Fresh Face sale is full of some of my favourite brands and products I am currently using. I highly recommend the Yarok Feed Your Volume Conditionerthat was $36 and is now $30 along with the matching Shampoo (which is currently sold out) for the same sale price. I have the most temperamental hair: thick and heavy. I find it nearly impossible to get any volume out of it, yet Yarok does wonders for my hair in the summer. I can go three days between washes without any problems. You also need to check out the S.W. Basics Cleanser and that entire line because they are an inexpensive option for natural beauty products. The cleanser was $27 and is now $22.95. Shipping is free on orders of $50.
Saffron Rouge Canada is offering 20% off select products for their birthday sale. Not only that, the first 50 orders will receive a free red flower Ocean Body Lotion (3 oz / 85g) gift and any order of $150 or more will be entered in a draw to win their entire order for free. That is all pretty cool; now let us look at the deals. This erbaviva Sunscreen SPF 30 is on sale from $23 down to $18.40. Kahina Giving Beauty's popular Argan Oil is also on sale from $40 down to $32. Shipping depends on how much your are spending. There are also some great Saffron Rouge coupon codes you can team up with the sale to get free gifts with purchase.
(Expiry: varies)