For those of you who are frequent shoppers @ SuperStore, here's a deal for you. On Thursday the 11th of December and Friday the 12th (2008), the Real Canadian Superstore will be having a "no tax" event.
A bit of info on Superstores locations and times:
"Offer valid in participating stores in British Columbia, Saskatchewan, Manitoba, Yukon, Northwest Territories and Thunder Bay Ontario. Offer effective Thursday December 11th and Friday December 12th, 2008 from 5pm to midnight local time."
Super Store list some examples in their flyer, such as the Sony Bravia 40" HD LCD TV for $849.99, or quite a few different fragrances for $49.99, such as the Ladies Gucci Envy Me perfume.
These events are usually pretty handy to pick up bits and pieces in-store at the super market. There are some exclusions though. The usual suspects – tobacco, prescriptions, dry cleaning, gas bar, lottery, or 3rd party businesses.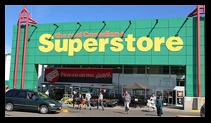 Another deal worth a mention - do you want a free turkey? If you happen to spend over $250, you can get a free President's Choice turkey worth $24.99 when you print and present this coupon in-store. The free coupon will expire on the 12th December 2008.
I'll go off on a tangent now – have you ever heard of Chad Vader – Day shift Manager? They are a series of short sketches, about the antics of Chad Vader, who works in a "superstore" style grocery store. The vids went viral, and are very popular over the internet. Give them a watch if you want a laugh. :)
Thanks to Cathy Dowdfor the image.