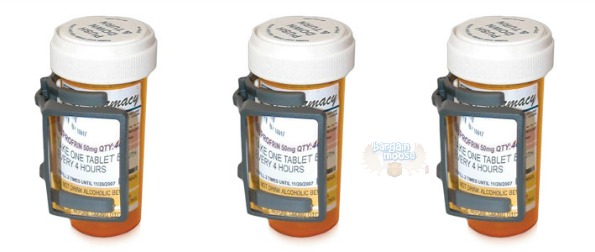 This product is a little spark of brilliance at such a low price. Pick up a two-pack of Innovative Technology Pill Bottle Magnifiers for only $3.96, originally $12.99.
I don't know about your family, but there are a good deal of people in my family who take medication and most of those people wear glasses. My grandparents probably could not read the instructions on a pill bottle if they tried, and I always wonder how well they remember the pharmacist or doctor's instructions if they do not write it down. Even my mother, who really is not that old, has trouble reading a pill bottle. She also has trouble opening one: there is nothing like giving your child a childproof pill bottle to get it open! Anyway, this product is super brilliant for anyone who is far sighted or who has poor vision.
The pill bottle magnifier fits all prescription bottles, so there is no need to worry whether it will fit around yours. It has a retractable arm for easy storage if you do not want to leave it attached to your bottle. There are two magnifiers included in each package, so you are paying less than $2 apiece. These lenses provide 3x magnification so you can read your prescription off the bottle easily and you might even be able to read some of the smaller print.
There is only one review of the product so far and the reviewer said:
good quality item if you have a bad eyes
a must have for people with eye problem
In my point of view, this is totally a matter of safety. You do not want to take the wrong dosage of medication or take your medication at the wrong time. You also want to heed any warning labels on your medication so you do not affect the potency of the medication. If you cannot read the label clearly, then your medication is a risk factor. A cheap little device like this can eliminate the problem.
Now, this is a cheap accessory so it will not meet the free shipping on $30 or more minimum. However, you can get it shipped to your local store free. You might also want to check out The Source's up to 60% off clearance sale occurring right now for any other great deals you might want to take advantage of when you order this.
(Expiry: Unknown)