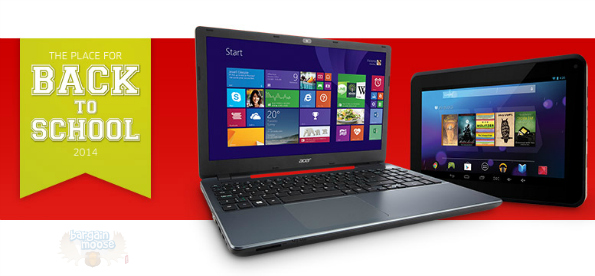 The Source Canada is giving out $25 savings cards with any purchase online or in store this week. It says savings cards are limited, so make sure you see it in your cart before checking out.
The $25 savings card can be redeemed on orders of $100 or more between August 14th through 27th. As this is a busy back to school time, they expect it will be easy for customers to spend that minimum and thus save an extra $25 off their order.
You can get this $25 savings card with any order. I was looked at the Xtreme Xfit Bluetooth Fitness Band that is currently priced at $49.99. This is a special promotional price, and after the 13th of August it will go up to $89.99. The Xfit comes with a bonus fitness band. This device tracks your total amount of calories burned in 24 hours, steps taken, distance traveled, and quality of sleep. My quality of sleep is non-existent, or maybe into the negatives if I think of it on a scale of one to ten. I would like a device to track how I actually sleep and then I could show my doctor the proof that my sleep cycle doesn't exactly cycle, it more hobbles around.
If you need a new printer, then toddle over to The Source Canada to view the Canon PIXMA MX512 Wireless Color Photo Printer with scanner, copier, and fax machine. Do people still use fax machines these days? Either way, this stellar all-in-one printer is on sale from $129.99 to $69.96.  Printers usually come with two ink cartridges (one colour, and one black), which are worth about half the cost of the printer itself. The wireless feature allows you to print from any tablet or phone at the click of a button.
The HP Officejet 6600 e-All-in-One Wireless Color Photo Printer is also a great deal. Originally $149.99, The Source has it on sale for $69.99. I price compared this unit with Amazon.ca and they have it listed at $74.98. Out of nine reviews on The Source's website, it ranks a 4.7/5. As one reviewer says:
This printer is great for a home office! Very easy to set up the wireless feature and also easy to use. The printing, scanning, faxing and copying features so far all work well and I think this is a great value for the dollar, especially if you get it on sale but even at regular price. Great job HP!
The Source Canada offers free shipping on orders of $30 or more.
(Expiry: 6th August 2014)