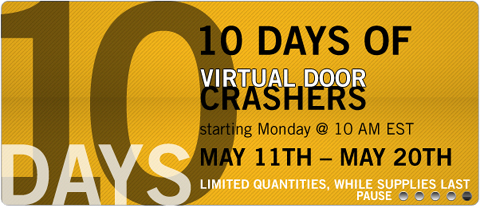 Hot on the heels of FutureShop's 10 days of deals, The Source by Circuit City Canada are also springing 10 days of Doorcrasher Deals on us. Well, I'm certainly not complaining, the more deals the better!!
What will they have to tempt us to spend money… hot deals on LCD TVs, mega bargains on desktop computers, super offers on mp3 players?

Day 1: May 11th, 2009: SONY HANDYCAM® DCR-DVD305 DVD CAMCORDER - $199.96 (search for 1611741) - this deal is pretty decent, but just note that they are all demo models only. They do come with a full warranty though, so that sounds ok!!

Day 2: May 12th, 2009: V7 5.6" DIGITAL PHOTO FRAME 4:3–BLACK - $29.96 (Search for 1618815) - great price for a basic little digital photo frame!
Day 3: May 13th, 2009: ASUS G1S-A1 15.4" GAMING NOTEBOOK - $799.96 (Search for 2515926) - VERY nice spec on this... plus it has a full 2 year warranty!

Day 4: May 14th, 2009: NEXXTECH™ 2GB SECURE DIGITAL CARD 2-PACK - $9.96 - sold out by the time I saw it!!

Day 5: May 15th, 2009: INITIAL 10.2" PORTABLE DVD PLAYER- $149.99- (search for 1611544)
Day 6: May 16th, 2009: FUSION UNIVERSAL GPS AC HOME CHARGER - $13.52 - (search for 2735597)
Day 7: May 17th, 2009: HEADRUSH TUNETUBE 1GB MP3 - $24.99 (search for black 1411192, pink 1411193, blue 1411194)
Day 8: May 18th, 2009: KLH INDOOR/OUTDOOR SPEAKERS - $19.96 (search for 4017164)
Day 9: May 19th, 2009: ???
Day 10: May 20th, 2009: ???
Remember that you can order online and collect at your local Source location to save you on shipping fees.
I'll update this post on a daily basis to keep you informed about the new deals.
P.S. You can get a possible 2.6% free cashback @ Dealguild Canada.