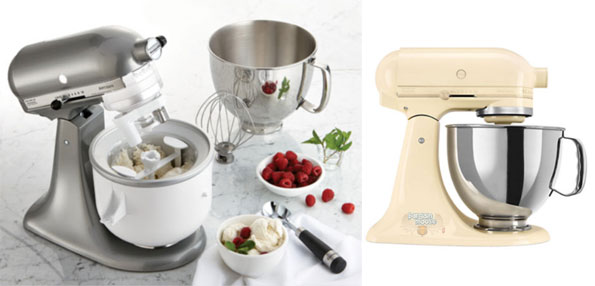 Have you been wanting to buy the KitchenAid Artisan stand mixer? For the next couple of days, The Bay is offering a free ice cream bowl with the purchase of any KitchenAid Artisan stand mixer, which is also on sale for just $349.99 (reg. $449.99).
On its own, the KitchenAid ice cream stand mixer usually retails for $129.99 and it's definitely a pretty nifty tool to have alongside the stand mixer. Although you can buy any regular ice cream maker for as low as $29 at Walmart, the KitchenAid far outweighs all of them because it takes less space, is bigger and the motor is known to last longer. This promotion also perfectly coincides with the current hot weather as you could use the bonus ice cream bowl to make frozen treats for the whole family to enjoy and cool off with as it sure beats overspending on Dairy Queen every day!
Amazonhas the Artisan mixer on sale for $349.99 but the fact that The Bay is throwing in a free ice cream bowl is what pushes this deal over the edge. Arguably, Costco is selling the KitchenAid Professional 6000 lift stand mixer for $359.99 and while it's only $10 more for a mixer that can hold more (5.7 L as opposed to 2.1 L with the Artisan), I actually have the professional one and I wish I would have gotten the artisan instead. The reason for this is that while I fancy myself a baker, I don't bake nearly as often or as much as I would like. So if like me, you don't see yourself making dozens upon dozens of cookies simultaneously or say, multiple triple-layered chocolate cakes, then I would definitely recommend the Artisan one.
Other points to consider when debating between the Artisan and the Professional is that the latter is much taller and may not fit on your counter, especially if your cupboards are lower. I also wonder about the effectiveness of making regular batches in such a large container as the Professional and I would think that a regular mixer would perfect mix much better.
You can also save up to 40% off a variety of KitchenAid small appliances as well right now. Among these, I found the KitchenAid Architect blender in candy apple red on sale for just $129.99 instead of $199.99. It can hold up to 48oz and has 5 different blend speeds: stir, mix, chop, puree, liquefy or chop ice.
Since The Bay typically offers free shipping on orders over $99, your order will also be shipped free of charge.
(Expiry: 17th July 2014)