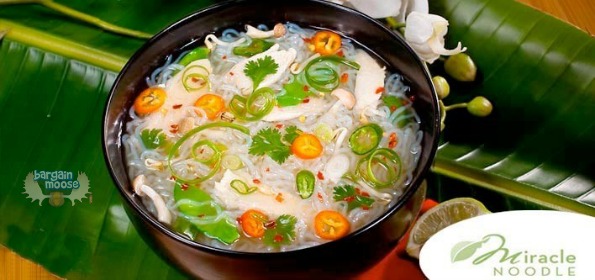 Teambuy Canada has a voucher for a 12-pack of Miracle Noodles on for $25, a $50 value.
I have a very determined-to-be-healthy-&-fit friend who told me about these noodles and highly recommends them. She subs them in for regular noodles in all of her recipes and says they are delicious. What they are is zero calorie, zero carb noodles. They have been said to show beneficial effects backed by medical studies for type II diabetes, constipation, obesity and cholesterol. They are made from a natural fibre called Glucomannan, a water-soluble fiber with no fat, sugar or starch.
You get three packs of each:
angel hair
rice
spinach
fettucine
They last for six months on the shelf and are definitely wheat and gluten free. You can buy unlimited amounts of these vouchers and they have no expiry.
Shipping is $12.35, payable when you redeem.
(Expiry: 1st April 2013)