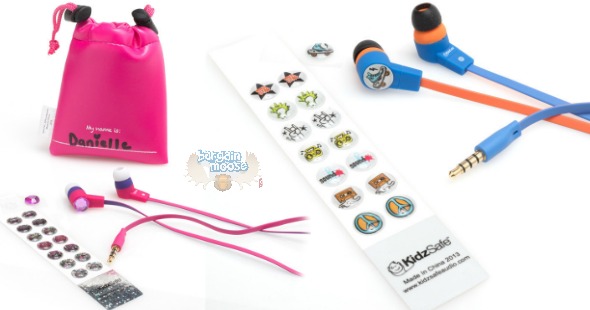 Looking for  headphones for your little one? Whether you are plugging earbuds into the iPad, portable DVD player or Nintendo DS, these KidzSafe Ear Buds are an excellent option for at home or on the go. These KidzSafe Ear Buds were originally $19.99 at Walmart Canada, but right now you can snag them in blue or pink for just $10 on clearance sale. Spend $50 or more to get free shipping right to your door too.
Parents around the world hum the Disney Frozen theme song while they do their day-to-day activities like grocery shopping or working. While other parents pay no mind, people without children may think we are crazy. One good way to avoid having theme songs from children's movies stuck in your head, is to get your kiddos a good pair of headphones. Add these KidzSafe Ear Buds to your Walmart.ca shopping cart and you will no longer have to sing "Let It Go" while in the shower. These ear buds would normally cost you $19.99, but are on clearance sale for just $10. 
These KidzSafe Ear Buds come in pink or blue, for girls or boys. The pink ear buds seem to be selling out a lot faster, so snag them while you can. Right now they just have limited stock online. It does look like you can grab these ear buds in most store locations too though. These KidzSafe Ear Buds are totally customizable, to make them even more fun for your little ones. They come with 16 removable stickers as well as six different silicone tips and a carry bag to customize  as well. If you have multiple kids in the household or want to send the headphones to school with your child, you can write your little one's name on the carry bag to ensure they don't get mixed up. These headphones even limit the volume to prevent any damage to your child's hearing when they accidentally turn the volume up way too loud, like kids often do.
Walmart Canada even offers free shipping when you spend $50 or more. Unfortunately their free shipping with no minimum purchase no longer exists, which is a bummer. They will still ship to your local Canada Post for free though, or if you are in the Greater Toronto Area,  you could opt to grab your purchase at a Grab & Go locker.
(Expiry: Unknown)