You Can Fly to Edmonton for $9 @ Swoop Airlines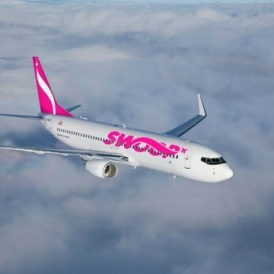 I know, this sounds too good to be true. I was just on the Swoop Airlines website, and they're selling plane tickets for $9!
Taxes and fees are included in this ticket price (and prices for all other Swoop flights), so what you see is what you pay.
Just think about it. That means you can practically take a $10 bill, book a flight and get a loonie back in change.

The flights in question are one-way trips from Abbotsford to Edmonton that depart on different dates in October. But even if you're looking at different destinations, you don't need to worry. Swoop is also running a Seat Sale on trips between Hamilton and other Canadian cities – and you can pretty much always score an ultra-low price on tickets anywhere else.
Swoop is what's known as an ultra-low fare airline, which means you can usually get incredible deals when you fly with them, because you don't automatically pay for all the extras other airlines offer. During seat sales like this one, however, their prices drop even lower than usual.
If you can't find deals on the destination you're looking for right now, just stay tuned. We'll update this post whenever a new Swoop seat sale comes up!