(Expired) Suzy Shier Sale: 15% discount in-store & online this weekend!! (Ends Aug 24th)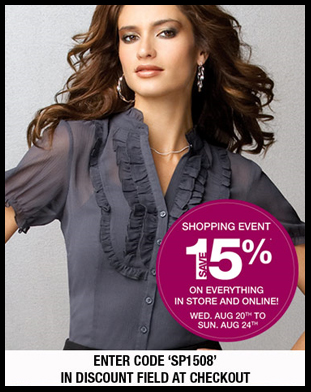 Oh the fashion deals are flying this weekend!! Here's the latest gossip from Suzy Shier - they're having a promo code when you go through the checkout:
Where: In store or online @ Suzy Shier
Coupon code: SP158
Expires: August 24th 2008
I like shopping at Suzy's, they have some gorgeous clothing that is really great for the office, but still quite dressy and can be worn for a night out too!
- Anna