SurveyLion.com is an online survey website, where you can complete surveys for cold hard cash! You simply join up, give them some of your details, and wait for the surveys to arrive to your emails.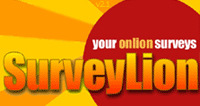 As with many of these survey companies, certain demographics are more popular than others. You might sign up and never hear from them again, or you might get 2 to 3 surveys a month! You are only getting a few dollars for each, but it's free moneyso you might as well get in on the action!
Quote from scott000 about SurveyLion:
Most surveys will take 10-15mins and will pay $3, payment is higher for longer surveys (Payment and Expected Survey length are stated in e-mail invitations). It is a Canadian Site and over the past couple years I have received and cashed cheques from them without any problems. There is no minimum balance to request a payment (I've had cheques come for $3, $5, etc.) although it typically takes around 4 weeks to receive your cheque. I average 1-2 survey invitations per month, most of which I am eligible to complete (although this will depend on your demographics). Surveys are typically collecting information on consumer awareness of specific products/services or want your opinion on a potential ad campaign for a company. Surveys I've recently filled out have been for Coke Zero and Arby's.
I'm not yet a member so I cannot personally comment on any experiences with Survey Lion Canada survey company.
Are you a member? How do you find the service?