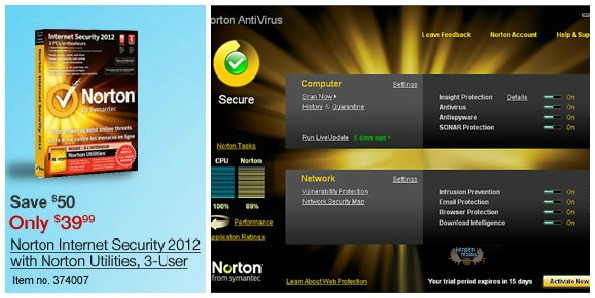 Staples Canada has a fabulous deal on Norton Internet Security 2012 with Norton Utilities, 3-User. Regularly priced at $89.99, it is on sale for $39.99.
This product is Bilingual, so whether your first language is English or Canadian French, pick it up.
Now, personally, I hate Norton: from the days where the system was almost as bad as the viruses it would remove. However, I am certainly not the only opinion out there. here is a review of the products from a long time Norton user:
I have been purchasing both products since inception. I especially like the removal of Internet traces. The Internet Security works well in the background. I couldn't be happier with these utilities. The combination of both utilities beautifully meets my PC needs. I have used Norton products for about approximately 21 years. For me, no other product comes close.
So there you have it. Besides, at $40 you get 3 licenses which means you can protect 3 computers for that price. That is extremely reasonable. I price compared with Amazon which has the product listed at $79.99, without Norton Utilities. There is no question this is a good deal.
Expiry: 11th, September 2012