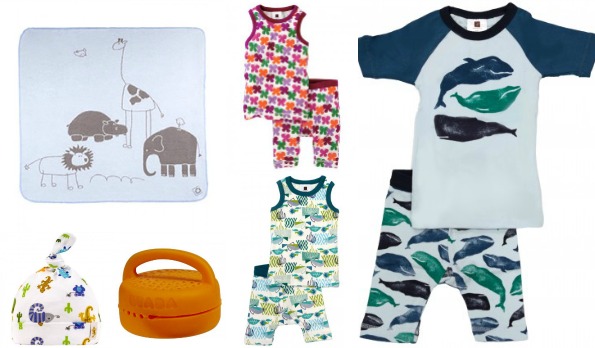 Snuggle Bugz Canada is offering free shipping with no minimum today ONLY! This is a very rare offer from the company as their free shipping minimum is usually $49. Shop the clearance sale with up to 50% off pyjamas, blankets, safety accessories, and more.
Hands down, my favourite deals are on a bunch of pyjama sets that are 50% off. These Whale Print Pajamas are awesome for boys or girls who love the big sea creatures. They come in sizes six months up to three years of age. Originally $28.99, these pyjamas are on sale for $14.50.
Staying in the ocean, these Mod Fish Pajamas feature fish and seaweed in a great abstract print. This may be my favourite print overall, even though I like whales better than fish. Originally $28.99, they are on sale for $14.50.
Both of those sets of pyjamas are blue-themed. The next two pairs are pink-themed. The Star Flower Pajamas are for lovely young ones with serious flower power. If there is a budding gardener in your family, then this may just be the set for them. Originally $28.99, they are on sale for $14.50.
Lastly, the Butterfly Swirl tank is a colourful set will please any lover of the winged insect. Originally $28.99, this set is also on sale for $14.50. All these sets are two-pieces and most sizes are in stock for each set of pyjamas. They are made by Tea Collection. I like the idea of giving your child a new set of pyjamas on Christmas Eve.
There are certainly a few other things I wanted to point out as well in the clearance section. The Kushies Safari Blanket is SO adorable with all the little Safari animals on it. In blue, this blanket is on sale from $19.99 down to $13.99. This would make an excellent gift for a baby shower if you find yourself attending one soon.
I also found this super cool Babycook Seasoning Ball. This ball works sort of like a tea-infuser. You place spices inside the ball and then let it 'steep' in your baby food. The ball lets you infuse spices into your baby's food for a more flavourful food. This is also a great way to introduce baby to new flavours at a young age. Originally $8.99, the infuser ball is now only $4.99.
(Expiry: 28th October 2015)